Villa Trianda, a true gem just 27 steps from the beach!
Villa in Sivota Lefkada, Lefkada (Lefkas)
2

Schlafzimmer

2

Badezimmer

4

Personen

1

Wc

110m²

Wohnfläche
Amazing seafront Villa Trianda located just above a small pebble beach, surrounded by dense vegetation and emerald waters, while offering unique views
Villa Trianda is located just above the small pebble beach of Ksilokeratidi bay, surrounded by dense vegetation and emerald waters, while offering unique views to the neighboring islands of Atokos, Arkoudi and Kefalonia. Initially built more than forty years ago, the villa carefully retains certain aspects of its traditional local character, yet simultaneously introducing elements of contemporary architecture and design in an ambitious attempt of blending old and new. With great emphasis put on minimizing its environmental impact, all energy requirements of the villa is derived from renewable sources through the use of a fully autonomous photovoltaic system.
INSIDE
Villa Trianda is consisted of two very comfortable master bedrooms with en-suite bathrooms, an enormous open-plan dining/kitchen/living room and a WC. More specifically, once entered through one of the two wide sliding doors you find yourself into the aforementioned open-plan space (approximately 50 sq.m.) where, on your right hand, there is the living area which is dominated by a huge purple sofa (~8,5 meter long), and on your left a fully equipped design kitchen with an eight-person dining table. A minimalistic WC is strategically located right in front of you, between the two master bedroom doors. The high wooden ceiling combined with the ample use of glass create a soothing "indoors-outdoors" sensation, while some very fine aspects, such as the 55'' led TV, the corian countertop, the downdraft hood and the spherical WC equipment, will definitely draw your attention! The first master bedroom, behind the dining area, features a queen size bed, large sliding wardrobe, very spacious shower with two shower heads, 40'' led TV and a wide sliding door overlooking the pool, which can be used as a separate entrance. The second master bedroom, behind the living area, features a king size bed (which can be separated into two single ones if needed), an equally large sliding wardrobe, a really spacious bathroom, 48'' led TV and a wide sliding door which can also be used as a separate entrance. Both bedrooms are very functional and efficiently designed, bright, they offer great views of the surroundings, whereas the stylish decoration, the high standards of equipment and the quality of materials used will certainly intrigue and inspire you! Last but not least, special care has been taken for your rest: top-notch mattresses, bed bases and pillows by Cocomat, hypoallergenic covers, 100% pure satin-cotton sheets and probably the most quiet air conditioning units currently available have all been summoned for the best sleep of your life.
OUTSIDE
Located in such an exquisite spot, the external spaces of villa Trianda were designed upon the principle of minimum landscape intervention. Moreover, in an effort to achieve the maximum degree of blending with the surrounding, natural materials such as stone and wood were extensively used during construction. At the same time no compromise was made, either on functionality, or at the range of provided amenities and available activities. Thus, you can swim in the twelve-meter long, chemical-free swimming pool, cook at the large barbecue, enjoy your lunch amidst the summer breeze or a dinner under the starry sky on the large round outside table, or just watch the magnificent sunrises and sunsets-if you are a bit lucky you may even see dolphins!-that will instill everlasting memories to you and your loved ones… But most importantly you can anytime you like, just by walking exactly nine meters and climbing down exactly twenty seven stairs, find yourself in the picturesque beach, enjoy a revitalizing dip in the crystal-clear sea or explore the nearby coastline with the two available kayaks you will find at the back of the villa. And, what's more, in the ideal case you own a boat you can tie it up at the villa's dock and truly create the ideal holiday setup!
ACCESS
The villa is located 3.5 km from the small port of Sivota where you will find 12 taverns and 4bars and few food stores and souvenirs. An unpaved road on the last two kilometers and steep on the last 500 meters, timid drivers refrain.
MHTE : 0831K91000524901
+ Mehr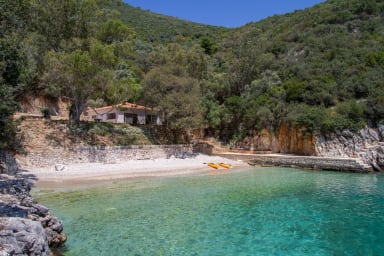 Parkplatzzugang
Klimaanlage
antik
Art Deco
atypisch
Babybad
Babybett
Babysitter Empfehlung
Baroque
Grill
Direkt am Strand
Mixer
Kanu
Kohlenmonoxiddetektor
Kino
Reinigung und Desinfektion
Reinigungsmittel
Kaffeemaschine
Concierge
kontaktloser check-in und check-out
zeitgenössisch
tägliche Hausreinigung
Geschirrspüler
DVD Player
ökologisch
imperial
Energieeffiziente Geräte
zusätzliche Kissen und Decken
Feuerlöscher
Erste-Hilfe-Set
Freie Reinigung
Gefrierschrank
Kühlschrank
voll ausgestattete Küche
Garten
eingezäuntes Grundstück
Handschuhe verfügbar
Haartrockner
behindertengerecht
Handdesinfektionsmittel
Kleiderbügel
Heizung
Hochstuhl
historisch
Hi-tech
Staubsauger
Internet
Bügeleisen
Wasserkocher
Kinderfreundlich
Bettwäsche und Handtücher
Langzeitvermietung möglich
Gepäckaufbewahrung
Masken verfügbar
Massage buchbar
Mikrowelle
minimalistisch
Moskitonetz
Kein Einweg-Kunststoff
Keine Einweg-Toilettenartikel
Bio-Lebensmittel & Getränke
Backofen
Parken inklusive
Beleuchteter Eingang
Haustiere erlaubt
Infinity Pool
Außenpool
privater Pool
Privatparkplatz
Privater Eingang
professionelle Reinigung
romantisch
Safe
Satellit oder Kabel
Meeresblick
Rauchdetektor
Rauchen nur im Außenbereich
Social distancing
Angestellte tragen Schutzausrüstung
Stereoanlage
Für Kinder geeignet ( 2 + Jahre alt)
Geeignet für Kleinkinder ( Unter 2 Jahren)
Baden
Terrasse
Toaster
TV
viktorianisch
Weinberg
Waschmaschine
Weinglässer
Holz
Bewertungen
Susanne H.

Deutschland

Susanne H.

Deutschland

---

More sea is not possible

…disappeared in paradise! Many thanks to Melanie from Villas Thalassa, who took care of everything in advance… and to our charming owner George.

Sabine

Deutschland

Sabine

Deutschland

---

A unique spot!

We spent a fantastic holiday at Villa Trianda! The little bay is beautiful and the house is amazingly secluded. George, the owner, is always there when you need him and very helpful. We will definitely come back!!!

Kiriakos P.

Zypern

Kiriakos P.

Zypern

---

Villa Trianda Stay

Outstanding and spacious villa with amazing view and beautiful surroundings and two parking spaces Very welcoming and servicefull host Top cleanliness and overall well equipped villa that accommodates all kind of preferences There is also opportunity to enjoy the beach that sites just in front of the villa Canoeing experience is highly recommended Respective equipment is available in the house

Melissa R.

Vereinigtes Königreich

Melissa R.

Vereinigtes Königreich

---

Six stars required for the location!

Very comfortable villa in a magical location. The road is scary and the bay was busy with boats in August but it was still definitely worth it! The walk into Sivota takes around 50 mins if you don't want to drive. The sea is wonderful and full of fish so bring your snorkels. George is a lovely host. We hope to return soon! Thanks to George and the Villas Thalassa team.

Sarah H.

Vereinigtes Königreich

Sarah H.

Vereinigtes Königreich

---

A Stunning Retreat

Villa Trianda is a beautiful villa in a breathtaking location. It was a real privilege to be able to stay in such a special place. I would definitely recommend if you like to swim in crystal clear water just a few footsteps from your wonderful terrace and villa.

Annick P.

Frankreich

Annick P.

Frankreich

---

Amazing place

Villa and location are amazing. A paradise. A rather secluded house, direct access to the pebble beach. Some visitors coming with boat or through a staircase. George is very very very reactive. A nice person. Water (sea and pool) rather fresh in June. The island has fantastic scenic views. Inhabitants are very helpful.

Sarah H.

Vereinigtes Königreich

Sarah H.

Vereinigtes Königreich

---

Paradise on Earth

We spent a blissful week here, after staying for several days at the gorgeous Villa Koumaria. Trianda is a really special and unforgettable place. Very comfortable for four people, with lovely (comfy) bedrooms and interior spaces, to say nothing of the exterior – where we spent virtually all of our time, immersed in the sounds and pleasures of nature: swimming, kayaking, eating al fresco, hearing the lapping waves in our bedroom at night... The Villas Thalassa team was fantastic at helping us organise our stay, and when we arrived, George was our amazing, communicative host. We hope to return!

Jeremy

Vereinigtes Königreich

Jeremy

Vereinigtes Königreich

---

The ideal place to spoil yourself!

Unique location, spacious villa, great host, a beach under our nose and a small boat waiting at the jetty. Too bad we stayed for just one week...

Mike R.

Vereinigtes Königreich

Mike R.

Vereinigtes Königreich

---

Don't really want to say!

The reason I don't want to say is I don't want others finding out about this incredible property! WOW! Amazing position (although the access is not for the faint hearted!), fantastic facilities and it is still going to improve with new features coming, according to the owner! Definitely an escape from the maddening crowds, but not so far that getting to civilisation a problem. With Sivota/Syvota marina 1 mile away and Vasiliki, just a 15min drive away, you will be spoilt for choice for markets and food! Already re-booked!!! Thank you George for an amazing break!

Norio

Italien

Norio

Italien

---

One of the best weeks imaginable

We really enjoyed this unique place. Dreamy views of the bay, early coffees on the beach, absolute serenity, lots of swimming and snorkelling. George -our host- arranged the rental of a small boat for the entire period of our stay, which we were mooring at the villa's dock and using it every day to visit nearby beaches and ports (Afteli, Amouso, Mikros Gialos, Sivota, Meganisi). A holiday to remember time after time!

Ef.Klaz

Deutschland

Ef.Klaz

Deutschland

---

Unforgettable holidays!

Fantastic spot and a very well equipped villa. Katerina and George were very kind and eager to assist us before and during our stay. We will definitely come back :)

Dan E.

Rumänien

Dan E.

Rumänien

---

A wonderful place

The ideal place to relax and forget about the world.

Kai-Axel W.

Deutschland

Kai-Axel W.

Deutschland

---

Awesome Stay

Perfect, Staff very friendly and helpful

Mirko M.

Mirko M.

---

LEFKADA UTMOST

Very remote place with private bay beach. No any sounds around you, absolutely! Most of the time beach belongs only to you, because it can be approached also with boat, and cross the small path. House is very comfortable, with two big bedrooms with their own bathrooms. All windows with mosquitos net. The yard is nice and well maintained, with swimming pool. The view to the open sea is amazing. Be aware that you need 4x4 vehicle to reach this place. Nearest village (Sivota) is 3,5 km far. Two third of the road is without asphalt. The host George is very kind and helpful. Special thanks for Katerina from Lefkada-Rentals! She was helping us with a lot of issues. Always in the good mood and with smiles. Thanks a lot dear Katerina for your kindness and support, and sorry that I bothered you so often.

Caroline J.

Vereinigtes Königreich

Caroline J.

Vereinigtes Königreich

---

Nature at it's best.....

A wonderful place to immerse yourself in nature - we had the best time, despite a freak moth infestation! Many thanks to George who looked after us very well during our stay. Please can we order more butterflies and less moths for any future visits we are lucky enough to make? 😉

Yoni C.

Yoni C.

---

Amazing place

This is an amazing place with an "almost private" beach

Gavin M.

Vereinigtes Königreich

Gavin M.

Vereinigtes Königreich

---

Secluded and stylish

Villa Trianda was the perfect escape-it was very peaceful and the surrounding gardens are laid out with different seating areas to relax and enjoy the views out to sea. Set above a lovely little cove with crystal clear waters for swimming, it felt private and the villa itself was modern, pristine and well equipped with light flooding in from picture windows and patio doors. You would not want to drive down the unmade up road too frequently but we were happy with that as we wanted to spend our time relaxing at the beautiful villa. It was also possible to walk into Sivota (about 45 minutes) with beautiful views out to sea along the way. George was a most attentive host and dealt with any queries immediately.

Margareta W.

Österreich

Margareta W.

Österreich

---

Fantastic November holidays :)

A really beautiful small villa in the most stunning location, reached via a rough -yet totally drivable- road. The weather was surprisingly good, so we spent virtually all of our time down at the beach and the jetty. Early morning coffees with the sea on our feet, chilling with a glass of wine later in the day, using the kayaks to explore the bay, dinners under the starlight have been our highlights. Interiors, beds, garden and lighting do greatly add to the overall experience. And of course, credits to Katerina and George for being so kind and responsive. All in all, it has just been everything we wanted for our holiday!

James H.

James H.

---

Our second time here, and there will be more!

Having had some amazing family vacations last August, we decided to choose Trianda again, this time for our romantic October escape! The spot is unique, the villa very well designed and equipped, while the off-season calmness and total "ownership" of the beach was more than enough compensation for the occasional rains:) The reliable internet access was a massive improvement compared to previous time. Obviously, very highly recommended!

James H.

James H.

---

Just amazing!

You will have a hard time leaving this place...

Melissa W.

Niederlande

Melissa W.

Niederlande

---

Fantastic location

Villa Trianda is a small house located on a fantastic and unique setting. We've spent a fantastic week, swimming every morning alone! (in August!!) The swimming pool is not big but is just what you need after a swim on the sea. Perfect. The garden has enough shadow to be able to spend the whole day on the property. There's a big round table where you can have lunch under the trees, enjoying the view. Airco on the sleeping rooms is very quiet. Good showers and good beds. Everything very clean. The house is about 15 minutes by car to the small town Sivota. Nice town with good restaurants. The last part of the road to the house is not on the best conditions, but the ride is more than worth it!

Sakis M.

Vereinigte Staaten

Sakis M.

Vereinigte Staaten

---

Fantastic Villa and host

Location, Location, Location and a hospitable and extremely helpful owner, George, made our vacation memorable. Being able to swim in the semi-private bay with clear waters by walking the 37 steps from the villa, was fantastic. We used the pool late evening to cool down. Enjoyed the BBQ. Only downside was the dirt road leading to the villa. Have already recommended the villa to our friends in NYC.

Wolfgang T.

Wolfgang T.

---

Traumlage

Wir haben im Juni 21 1 Woche in Villa Trianda verbringen dürfen. Villa Trianda ist ein moderner, großzügiger, lichtdurchfluteter Bungalow mit geschmackvoller Einrichtung und einigen designerischen Highlights. Die Lage der Villa ist einzigartig direkt an einer kleinen quasi privaten Bucht mit kleinem Kiesstrand und kristallklarem Wasser inmitten eines uneinsehbaren, mediterranem Garten. Weitere Highlights sind der gepflegte Pool, der Aussengrill und nicht zu vergessen die zur Verfügung stehenden Kanus für Ausflüge in Nachbarbuchten. Das Team von Villas Thalassa war stets sehr freundlich und hilfreich (Schiffsverbindunen u.v.a.m.). Noch einmal vielen Dank an Katerina und Anna. Giorgos, der Besitzer kümmert sich diskret und liebevoll um Haus, Garten und Gäste. Wir verdanken ihm Super Tips für Ausflüge und Restaurants auf der Insel. Die Zugangsstrasse ist etwas rau, die letzten 2 Kilometer Schotter. Das trägt aber zum Charme des Hauses bei. Ein 4x4 ist nicht erforderlich (für tiefergelegte Fahrzeuge allerdings ungeeignet). Sehr gerne kommen wir wieder!

Christian A.

Deutschland

Christian A.

Deutschland

---

Wonderful villa with direct sea access

We can highly recommend this villa. During our stay in may we felt like Robinson Cruso since the beach was almost empty during the week. The house is located in the shadow on the slope of a small bay facing the sea. In the beautiful garden there are some olive trees so it is always not to hot, which should be especially important in high season (July, August). Inside the house it is always quite fresh, we didn't need the air conditioning at all. The house is very stylish and well equipped - the owner is especially friendly and helpful. He provided the villa with Nespresso capsule machine, olive oil, herbs and spices, as well as garbage bags and washing powder and plenty of towels- thank you for that. At the outside area in the shadow there are sometimes mosquitoes, when the wind is calm (the owner provided incense sticks), but we had never mosquitoes inside the house. So very calm nights without any noises of traffic are guaranteed. Every door and window was properly provided with mosquito nets and you also found electrical mosquito control in every room of the house. The small beach right in front of the house with the direct access is amazing and the biggest highlight of the house, especially since we had the beach for ourselves most of the time. So we didn't use the pool (although it was beautiful and also had a pool shower). We spent a wonderful vacation. Christian & Katharina

Sebastian O.

Deutschland

Sebastian O.

Deutschland

---

Magnificent stay

Fantastic location, wonderful landscape, calm and quiet. It was a pleasure to enjoy the sea with the canoe in the morning or to have a bbq in this beautiful garden. Great host, extremly kind and helpful.

Robert L.

Vereinigtes Königreich

Robert L.

Vereinigtes Königreich

---

Amazing property, peaceful, beautiful bay, secluded

The property is stunning, loads of facilities, beautiful views, everything you would ever need, garden is the same; BBQ, plenty of seating, shade, lighting, kayaks etc.. It is all about the location though. A very quiet and secluded bay a few steps from the bottom of the garden, a jetty to sit on and watch the world go by, it is a paradise. I really cannot recommend this property enough.

Ben C.

Ben C.

---

Ben Cheal

Amazing location, lovely house with great interior fit out, and a really nice host!

VASILEIOS F.

Griechenland

VASILEIOS F.

Griechenland

---

best private villa

we spend at the house three wonderful days and we wish we can do it again soon. the house is in a lovely location just in front of a private beach with crystal green-blue waters. it was very comfortable and the bedrooms were excellent with a modern style. The kids loved the pool outside the house while we could relax by the pool at the dinning table and enjoy our barbecue. Giorgos who was our host was very kind and helpful and provided us with everything we needed. seeing forward to visit the villa again!
Mehr anzeigen ↓