Φανταστική παραθαλάσσια Villa Trianda πάνω από μία μικρή παραλία με βότσαλα, καταπράσινα νερά, έντονη βλάστηση και υπέροχη θέα!
Η Villa Trianda βρίσκεται ακριβώς πάνω από την μικρή παραλία του κόλπου Ξυλοκερατίδι με βότσαλα, καταπράσινα νερά και έντονη βλάστηση, ενώ προσφέρει και υπέροχη θέα στα γειτονικά νησιά Άτοκος, Αρκούδι και Κεφαλονιά. Αρχικά χτισμένη πριν 40 χρόνια, η βίλα διατηρεί τα παραδοσιακά ντόπια στοιχεία ενώ παράλληλα αγκαλιάζει την μοντέρνα αρχιτεκτονική και διακόσμηση, σε ένα τολμηρό πάντρεμα του σύγχρονου με το παλαιό. Δίνοντας μεγάλη έμφαση στην συμβολή στην περιβαντολλογική προστασία, η βίλα καλύπτεται από εναλλακτική ηλιακή ενέργεια χρησιμοποιώντας φωτοβολταικά συστήματα.
ΕΣΩΤΕΡΙΚΟ
Η Villa Trianda αποτελείται από δύο ευρύχωρες κρεβατοκάμαρες με μπάνιο εντός δωματίου, ένα μεγάλο ενιαίο χώρο με ανοιχτή διαρρύθμιση τραπεζαρία-κουζίνα-καθιστικό και ένα WC. Συγκεκριμένα, μόλις κανείς περάσει τη μία από τις δύο μεγάλες συρόμενες πόρτες θα βρεθεί στον ανοιχτό χώρο των περίπου 50 τετραγωνικών μέτρων όπου, στα δεξιά θα δει ένα καθιστικό όπου δεσπόζει ο πραγματικά ευρύχωρος μοβ καναπές (8,5 μέτρα μήκος), ενώ στα αριστερά βλέπει μία πλήρως εξοπλισμένη κουζίνα και μία τραπεζαρία που χωρά 8 άτομα. Ένα μινιμαλιστικό WC είναι στρατηγικά τοποθετημένο ακριβώς στην ευθεία και ανάμεσα στα δύο υπνοδωμάτια. Το ψηλό ξύλινο ταβάνι σε συνδυασμό με την αφθονία των τζαμαριών δίνει την ανοιχτή αίσθηση ότι συνδέεται ο εσωτερικός με τον εξωτερικό χώρο, ενώ μικρές λεπτομέρειες όπως, η 55'' led τηλεόραση, ο corian πάγκος, o κρυφός απορροφητήρας και τα σφαιρικού σχήματος είδη υγιεινής, θα κερδίσουν την προσοχή σας! Το πρώτο μεγάλο υπνοδωμάτιο που βρίσκεται πίσω από την τραπεζαρία, έχει ένα queen size κρεβάτι, μεγάλη ντουλάπα με συρόμενη πόρτα, μία ευρύχωρη ντουζιέρα με δύο κεφαλές νερού, 40'' led τηλεόραση και μία μεγάλη μπαλκονόπορτα που οδηγεί στην πισίνα και δίνει ξεχωριστή πρόσβαση. Το δεύτερο υπνοδωμάτιο πίσω από το καθιστικό, έχει ένα king size κρεβάτι (που μπορεί να χωριστεί σε δύο μονά αν χρειαστεί), μία εξίσου μεγάλη ντουλάπα με συρόμενη πόρτα, ένα πραγματικά άνετο μπάνιο, 48'' led τηλεόραση και μια μεγάλη μπαλκονόπορτα που επίσης παρέχει ξεχωριστή πρόσβαση. Και τα δύο δωμάτια είναι λειτουργικά με άνετη σχεδίαση, φωτεινά, με θέα του περιβάλλοντος χώρου, ενώ η προσεγμένη διακόσμηση, ο υψηλού επιπέδου εξοπλισμός και τα ποιοτικά υλικά που σας περιβάλλουν θα σας αγγίξουν και θα σας εμπνεύσουν! Πιο σημαντικό, η άνεσή σας και η ξεκούραση σας είναι πρώτη προτεραιότητα: προσεκτικά διαλεγμένα στρώματα, βάσεις κρεβατιών και μαξιλάρια Cocomat, υποαλλεργικά καλύμματα, σεντόνια από 100% αγνό μετάξι-βαμβάκι και οι πιο αθόρυβες διαθέσιμες μονάδες κλιματισμού έχουν κληθεί για να σας εξασφαλίσουν τον βαθύτερο και πιο ξεκούραστο ύπνο της ζωής σας.
ΕΞΩΤΕΡΙΚΑ
Χτισμένη στο πιο ειδυλλιακό τοπίο, η Villa Trianda και οι εξωτερικοί της χώροι σχεδιάστηκαν με σκοπό την μικρότερη δυνατή επίδραση στο φυσικό περιβάλλον. Επιπλέον, για να επιτευχθεί η μεγαλύτερη δυνατή ισορροπία με το χώρο, φυσικά υλικά όπως πέτρα και ξύλο χρησιμοποιήθηκαν κατά το χτίσιμο της. Παράλληλα δεν έγινε κανένας συμβιβασμός ούτε στη λειτουργικότητα αλλά ούτε στις παροχές και επιλογές δραστηριοτήτων. Κολυμπήστε στην 12μετρη -χωρίς χημικά- πισίνα, διασκεδάστε ψήνοντας στο μεγάλο barbecue, απολαύστε το γεύμα σας στο καλοκαιρινό αεράκι ή το δείπνο σας κάτω από τον έναστρο ουρανό στην στρογγυλή εξωτερική τραπεζαρία, ή απλά χαζέψτε την ανατολή και τη δύση του ήλιου και αν είστε τυχεροί μπορείτε να δείτε και δελφίνια να κολυμπούν μπροστά σας! Όλα όσα μπορούν να σας εξασφαλίσουν πανέμορφες παντοτινές αναμνήσεις σε εσάς και τους αγαπημένους σας... Το πιο σημαντικό, όποτε θέλετε απλά περπατώντας 9 μέτρα και κατεβαίνοντας 27 σκαλιά, βρίσκεστε στην φωτογραφική παραλία, απολαμβάνοντας μία αναζωογονητική βουτιά στα κρυστάλλινα νερά ή να εξερευνήσετε την κοντινή ακτογραμμή με τα 2 διαθέσιμα καγιάκ που θα βρείτε φυλαγμένα πίσω από τη βίλα. Και επιπλέον, στην περίπτωση που έχετε ή νοικιάσατε το δικό σας σκάφος, μπορείτε να το δέσετε στο μόλο της βίλας και να δημιουργήσετε τις τέλειες συνθήκες για τις διακοπές σας!
ΠΡΟΣΒΑΣΗ
Η βίλα βρίσκεται 3,5 χιλιόμετρα από το λιμάνι των Συβότων όπου λειτουργούν 12 ταβέρνες και 4 μπαρ, παντοπωλεία και μαγαζιά με σουβενίρ. Για τα 2 τελευταία χιλιόμετρα ο δρόμος δεν είναι ασφαλτοστρωμένος και ακολουθείτε από 500 μέτρα σχετικά απότομης καθόδου, που χρειάζονται έμπειρο οδηγό.
MHTE : 0831K91000524901
+ More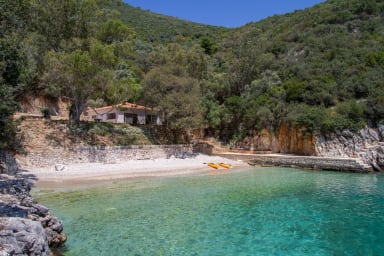 Accessible car park
Air Conditioning
Antique
Art Deco
Atypical
Baby bath
Baby crib
Babysitter recommendation
Baroque
BBQ
Beach front
Μπλέντερ
Canoe
Carbon Monoxide Detector
Cleaning and disinfection
Cleaning products
Καφετιέρα
θυρωρός
Contactless check-in and check-out
Contemporary
Καθημερινό Καθάρισμα
Πλυντήριο Πιάτων
Dvd Player
Ecological
Empire
Energy-efficient devices
Extra pillows and blankets
Fire Extinguisher
First Aid Kit
Free Cleaning
Καταψύκτης
Ψυγείο
Πλήρως Εξοπλισμένη Κουζίνα
Κήπος
Gated property
Gloves available
Πιστολάκι
Πρόσβαση ΑΜΕΑ
Hand sanitizer
Hangers
Heating
Highchair
Historical
Hi-tech
Ηλεκτρική Σκούπα
Internet
Σίδερο
Βραστήρας
Kids Friendly
Linen Towels
Ενοικίαση Μεγάλης Διάρκειας
Luggage storage
Masks available
MΜαζάζ κατόπιν Παραγγελίας
Μικροκύμματα
Minimalist
Σίτες
No single-use plastic
No single-use toiletries
Organic food & beverages
Φούρνος
Συμπεριλαμβάνεται Parking
Path to entrance lit at night
Επιτρέπονται τα κατοικίδια
Infinity pool
Outdoor pool
Ιδιωτική Πισίνα
Ιδιωτικό Πάρκινκ
Private entrance
Professionally cleaned
Romantic
Χρηματοκιβώτιο
Δορυφορική ή Καλωδιακή
Θέα στη Θάλασσα
Smoke Detector
Απαγορεύεται το Κάπνισμα
Social distancing
Staff wear protective equipment
Stereo System
Suitable for children (2+ years old)
Suitable for infants (under 2 years)
Swimming
Ταράτσα
Τοστιέρα
Τηλεόραση
Victorian
Vineyard
Πλυντήριο
Wine glasses
Wood
Reviews
Sabine

Γερμανία

Sabine

Γερμανία

---

A unique spot!

We spent a fantastic holiday at Villa Trianda! The little bay is beautiful and the house is amazingly secluded. George, the owner, is always there when you need him and very helpful. We will definitely come back!!!

Kiriakos P.

Κύπρος

Kiriakos P.

Κύπρος

---

Villa Trianda Stay

Outstanding and spacious villa with amazing view and beautiful surroundings and two parking spaces Very welcoming and servicefull host Top cleanliness and overall well equipped villa that accommodates all kind of preferences There is also opportunity to enjoy the beach that sites just in front of the villa Canoeing experience is highly recommended Respective equipment is available in the house

Melissa R.

Ηνωμένο Βασίλειο

Melissa R.

Ηνωμένο Βασίλειο

---

Six stars required for the location!

Very comfortable villa in a magical location. The road is scary and the bay was busy with boats in August but it was still definitely worth it! The walk into Sivota takes around 50 mins if you don't want to drive. The sea is wonderful and full of fish so bring your snorkels. George is a lovely host. We hope to return soon! Thanks to George and the Villas Thalassa team.

Sarah H.

Ηνωμένο Βασίλειο

Sarah H.

Ηνωμένο Βασίλειο

---

A Stunning Retreat

Villa Trianda is a beautiful villa in a breathtaking location. It was a real privilege to be able to stay in such a special place. I would definitely recommend if you like to swim in crystal clear water just a few footsteps from your wonderful terrace and villa.

Annick P.

Γαλλία

Annick P.

Γαλλία

---

Amazing place

Villa and location are amazing. A paradise. A rather secluded house, direct access to the pebble beach. Some visitors coming with boat or through a staircase. George is very very very reactive. A nice person. Water (sea and pool) rather fresh in June. The island has fantastic scenic views. Inhabitants are very helpful.

Sarah H.

Ηνωμένο Βασίλειο

Sarah H.

Ηνωμένο Βασίλειο

---

Paradise on Earth

We spent a blissful week here, after staying for several days at the gorgeous Villa Koumaria. Trianda is a really special and unforgettable place. Very comfortable for four people, with lovely (comfy) bedrooms and interior spaces, to say nothing of the exterior – where we spent virtually all of our time, immersed in the sounds and pleasures of nature: swimming, kayaking, eating al fresco, hearing the lapping waves in our bedroom at night... The Villas Thalassa team was fantastic at helping us organise our stay, and when we arrived, George was our amazing, communicative host. We hope to return!

Jeremy

Ηνωμένο Βασίλειο

Jeremy

Ηνωμένο Βασίλειο

---

The ideal place to spoil yourself!

Unique location, spacious villa, great host, a beach under our nose and a small boat waiting at the jetty. Too bad we stayed for just one week...

Mike R.

Ηνωμένο Βασίλειο

Mike R.

Ηνωμένο Βασίλειο

---

Don't really want to say!

The reason I don't want to say is I don't want others finding out about this incredible property! WOW! Amazing position (although the access is not for the faint hearted!), fantastic facilities and it is still going to improve with new features coming, according to the owner! Definitely an escape from the maddening crowds, but not so far that getting to civilisation a problem. With Sivota/Syvota marina 1 mile away and Vasiliki, just a 15min drive away, you will be spoilt for choice for markets and food! Already re-booked!!! Thank you George for an amazing break!

Norio

Ιταλία

Norio

Ιταλία

---

One of the best weeks imaginable

We really enjoyed this unique place. Dreamy views of the bay, early coffees on the beach, absolute serenity, lots of swimming and snorkelling. George -our host- arranged the rental of a small boat for the entire period of our stay, which we were mooring at the villa's dock and using it every day to visit nearby beaches and ports (Afteli, Amouso, Mikros Gialos, Sivota, Meganisi). A holiday to remember time after time!

Ef.Klaz

Γερμανία

Ef.Klaz

Γερμανία

---

Unforgettable holidays!

Fantastic spot and a very well equipped villa. Katerina and George were very kind and eager to assist us before and during our stay. We will definitely come back :)

Dan E.

Ρουμανία

Dan E.

Ρουμανία

---

A wonderful place

The ideal place to relax and forget about the world.

Kai-Axel W.

Γερμανία

Kai-Axel W.

Γερμανία

---

Awesome Stay

Perfect, Staff very friendly and helpful

Mirko M.

Mirko M.

---

LEFKADA UTMOST

Very remote place with private bay beach. No any sounds around you, absolutely! Most of the time beach belongs only to you, because it can be approached also with boat, and cross the small path. House is very comfortable, with two big bedrooms with their own bathrooms. All windows with mosquitos net. The yard is nice and well maintained, with swimming pool. The view to the open sea is amazing. Be aware that you need 4x4 vehicle to reach this place. Nearest village (Sivota) is 3,5 km far. Two third of the road is without asphalt. The host George is very kind and helpful. Special thanks for Katerina from Lefkada-Rentals! She was helping us with a lot of issues. Always in the good mood and with smiles. Thanks a lot dear Katerina for your kindness and support, and sorry that I bothered you so often.

Caroline J.

Ηνωμένο Βασίλειο

Caroline J.

Ηνωμένο Βασίλειο

---

Nature at it's best.....

A wonderful place to immerse yourself in nature - we had the best time, despite a freak moth infestation! Many thanks to George who looked after us very well during our stay. Please can we order more butterflies and less moths for any future visits we are lucky enough to make? 😉

Yoni C.

Yoni C.

---

Amazing place

This is an amazing place with an "almost private" beach

Gavin M.

Ηνωμένο Βασίλειο

Gavin M.

Ηνωμένο Βασίλειο

---

Secluded and stylish

Villa Trianda was the perfect escape-it was very peaceful and the surrounding gardens are laid out with different seating areas to relax and enjoy the views out to sea. Set above a lovely little cove with crystal clear waters for swimming, it felt private and the villa itself was modern, pristine and well equipped with light flooding in from picture windows and patio doors. You would not want to drive down the unmade up road too frequently but we were happy with that as we wanted to spend our time relaxing at the beautiful villa. It was also possible to walk into Sivota (about 45 minutes) with beautiful views out to sea along the way. George was a most attentive host and dealt with any queries immediately.

Margareta W.

Αυστρία

Margareta W.

Αυστρία

---

Fantastic November holidays :)

A really beautiful small villa in the most stunning location, reached via a rough -yet totally drivable- road. The weather was surprisingly good, so we spent virtually all of our time down at the beach and the jetty. Early morning coffees with the sea on our feet, chilling with a glass of wine later in the day, using the kayaks to explore the bay, dinners under the starlight have been our highlights. Interiors, beds, garden and lighting do greatly add to the overall experience. And of course, credits to Katerina and George for being so kind and responsive. All in all, it has just been everything we wanted for our holiday!

James H.

James H.

---

Our second time here, and there will be more!

Having had some amazing family vacations last August, we decided to choose Trianda again, this time for our romantic October escape! The spot is unique, the villa very well designed and equipped, while the off-season calmness and total "ownership" of the beach was more than enough compensation for the occasional rains:) The reliable internet access was a massive improvement compared to previous time. Obviously, very highly recommended!

James H.

James H.

---

Just amazing!

You will have a hard time leaving this place...

Melissa W.

Ολλανδία

Melissa W.

Ολλανδία

---

Fantastic location

Villa Trianda is a small house located on a fantastic and unique setting. We've spent a fantastic week, swimming every morning alone! (in August!!) The swimming pool is not big but is just what you need after a swim on the sea. Perfect. The garden has enough shadow to be able to spend the whole day on the property. There's a big round table where you can have lunch under the trees, enjoying the view. Airco on the sleeping rooms is very quiet. Good showers and good beds. Everything very clean. The house is about 15 minutes by car to the small town Sivota. Nice town with good restaurants. The last part of the road to the house is not on the best conditions, but the ride is more than worth it!

Sakis M.

Ηνωμένες Πολιτείες

Sakis M.

Ηνωμένες Πολιτείες

---

Fantastic Villa and host

Location, Location, Location and a hospitable and extremely helpful owner, George, made our vacation memorable. Being able to swim in the semi-private bay with clear waters by walking the 37 steps from the villa, was fantastic. We used the pool late evening to cool down. Enjoyed the BBQ. Only downside was the dirt road leading to the villa. Have already recommended the villa to our friends in NYC.

Wolfgang T.

Wolfgang T.

---

Traumlage

Wir haben im Juni 21 1 Woche in Villa Trianda verbringen dürfen. Villa Trianda ist ein moderner, großzügiger, lichtdurchfluteter Bungalow mit geschmackvoller Einrichtung und einigen designerischen Highlights. Die Lage der Villa ist einzigartig direkt an einer kleinen quasi privaten Bucht mit kleinem Kiesstrand und kristallklarem Wasser inmitten eines uneinsehbaren, mediterranem Garten. Weitere Highlights sind der gepflegte Pool, der Aussengrill und nicht zu vergessen die zur Verfügung stehenden Kanus für Ausflüge in Nachbarbuchten. Das Team von Villas Thalassa war stets sehr freundlich und hilfreich (Schiffsverbindunen u.v.a.m.). Noch einmal vielen Dank an Katerina und Anna. Giorgos, der Besitzer kümmert sich diskret und liebevoll um Haus, Garten und Gäste. Wir verdanken ihm Super Tips für Ausflüge und Restaurants auf der Insel. Die Zugangsstrasse ist etwas rau, die letzten 2 Kilometer Schotter. Das trägt aber zum Charme des Hauses bei. Ein 4x4 ist nicht erforderlich (für tiefergelegte Fahrzeuge allerdings ungeeignet). Sehr gerne kommen wir wieder!

Christian A.

Γερμανία

Christian A.

Γερμανία

---

Wonderful villa with direct sea access

We can highly recommend this villa. During our stay in may we felt like Robinson Cruso since the beach was almost empty during the week. The house is located in the shadow on the slope of a small bay facing the sea. In the beautiful garden there are some olive trees so it is always not to hot, which should be especially important in high season (July, August). Inside the house it is always quite fresh, we didn't need the air conditioning at all. The house is very stylish and well equipped - the owner is especially friendly and helpful. He provided the villa with Nespresso capsule machine, olive oil, herbs and spices, as well as garbage bags and washing powder and plenty of towels- thank you for that. At the outside area in the shadow there are sometimes mosquitoes, when the wind is calm (the owner provided incense sticks), but we had never mosquitoes inside the house. So very calm nights without any noises of traffic are guaranteed. Every door and window was properly provided with mosquito nets and you also found electrical mosquito control in every room of the house. The small beach right in front of the house with the direct access is amazing and the biggest highlight of the house, especially since we had the beach for ourselves most of the time. So we didn't use the pool (although it was beautiful and also had a pool shower). We spent a wonderful vacation. Christian & Katharina

Sebastian O.

Γερμανία

Sebastian O.

Γερμανία

---

Magnificent stay

Fantastic location, wonderful landscape, calm and quiet. It was a pleasure to enjoy the sea with the canoe in the morning or to have a bbq in this beautiful garden. Great host, extremly kind and helpful.

Robert L.

Ηνωμένο Βασίλειο

Robert L.

Ηνωμένο Βασίλειο

---

Amazing property, peaceful, beautiful bay, secluded

The property is stunning, loads of facilities, beautiful views, everything you would ever need, garden is the same; BBQ, plenty of seating, shade, lighting, kayaks etc.. It is all about the location though. A very quiet and secluded bay a few steps from the bottom of the garden, a jetty to sit on and watch the world go by, it is a paradise. I really cannot recommend this property enough.

Ben C.

Ben C.

---

Ben Cheal

Amazing location, lovely house with great interior fit out, and a really nice host!

VASILEIOS F.

Ελλάδα

VASILEIOS F.

Ελλάδα

---

best private villa

we spend at the house three wonderful days and we wish we can do it again soon. the house is in a lovely location just in front of a private beach with crystal green-blue waters. it was very comfortable and the bedrooms were excellent with a modern style. The kids loved the pool outside the house while we could relax by the pool at the dinning table and enjoy our barbecue. Giorgos who was our host was very kind and helpful and provided us with everything we needed. seeing forward to visit the villa again!
Show more ↓