Villa Sivota, Exklusive Villa in direkter Lage am Meer mit 99" Heimkino im
Villa in Sivota Lefkada, Lefkada (Lefkas)
4

Schlafzimmer

3

Badezimmer

6-8

Personen

220m²

Wohnfläche
Luxuriöse Villa in erster Meereslinie mit privatem Pool und eigenem 99" Heimkino im Untergeschoss
Die Villa Sivota ist mit 220 qm die größte Villa in der Nähe des Bootsanlegers. Sie ist außergewöhnlich geschnitten und perfekt gelegen. Der Strand ist in direkter Nähe und das Dorf Sivota mit Geschäften und Tavernen nur 5 Minuten entfernt. Die Villa Sivota ist ideal für Menschen die Luxus, Privatsphäre und Komfort in einem großzügigen, voll ausgestatteten Haus suchen. Mit hohem Standard und einzigartig gelegen ist die Villa perfekt für einen himmlischen Urlaub. Die technische Ausstattung der neuesten Generation und sogar ein privates Kino sind einzigartig. Unsere neu erbaute Villa liegt inmitten von Olivenbäumen und der Blick ist auf das Meer ausgerichtet. Unter Berücksichtigung von Komfort, Luxus und Ruhe ist besonderer Wert auf die Bauqualität gelegt worden. Gerade einmal 50 Meter vom Bootsanleger entfernt, ist die Villa Sivota ideal für Bootsliebhaber; haben Sie einen direkten Blick auf Ihr eigenes Boot oder Sie genießen einfach die Aussicht auf den kleinen, lebendigen Hafen mit den ein- und ausfahrenden Segelbooten. Die Villa bietet Ihnen höchsten technischen Standard und eine Ausstattung hoher Qualität wie z.B. LCD-Fernseher, sowie ein privates Heimkino im Untergeschoss.
Außenbereich
Die Villa umgebende Terrasse bietet einen wundervollen, direkten Blick auf den Hafen. Ein großer Essbereich mit Grill und Sitzecke unter der Pergola werden Sie die Abende an der Villa genießen lassen. In einem zweiten Wohnbereich der mit dem Haus verbunden ist, können Sie entspannen oder einfach Ihren Drink genießen...
Sie gehen einige Stufen von der Terrasse herunter und sind direkt auf der großzügigen Poolterrasse mit Pool (9 x 4m), Außendusche und der Möglichkeit für ein ausgiebiges Sonnenbad. Der Bereich bietet Ihnen vom Pflanzen umgebene Deckchairs, ein großes Sonnensegel und einen wunderschönen Blick auf den kleinen Hafen.
Etwas unterhalb in einem Olivenhain finden Sie eine Hängematte mit schönem Blick.
1. Etage
Hier finden Sie ein Schlafzimmer mit einem Queen-size Bett, 46"-Fernseher, ein Badezimmer mit Badewanne sowie einen privaten Balkon mit Hafenblick.
Erdgeschoss
Die Küche ist mit Ceran-Kochfeld, Ofen, Mikrowelle, Spülmaschine, Kühl-Gefrierkombination, Küchenmaschine etc. voll ausgestattet.
Das Wohnzimmer hat einen 46"-Fernseher und ein HD Sound System und einen traumhaften Blick aufs Meer.
Ein Schlafzimmer mit Queen-Size Bett, 40"-Fernseher, ein Badezimmer mit Dusche, sowie ein separates WC. Die Terrasse ist nach Süden ausgerichtet und hat Meerblick.
Gartenebene
Hier finden Sie ein Schlafzimmer mit zwei Einzelbetten, 40"-Fernseher und ein Badezimmer mit Dusche. Eine zur Bucht ausgerichtete Fenstertür führt sie in einen kleinen Patio von dem aus Sie direkten Zugang zum Pool haben.
Ein Haushaltsraum mit Waschmaschine und ein optionales Kinderzimmer mit zwei Einzelbetten.
Das private Kino mit 99" Leinwand, Full-HD-LED Projektor ist ebenso professionell wie das Full-HD 5.1 Sound System. Ein Blu-Ray Player, – bitte vergessen Sie nicht Ihre Filme und Spiele mitzubringen!
+ Mehr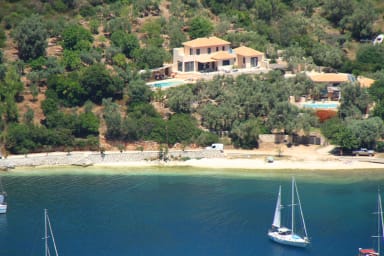 Environment Villa, olive trees, beach, sea and sailing
Master bedroom on 1st floor with bathroom and private terrace
Living room with large openings on the terraces and Sivota's harbour
Incredible view of the lovely port of Sivota
99" Underground cinema entertainment in your holiday villa
terrace meals and after a few steps the terrace around the pool
Every comfort is provided for the kitchen
This charming private terrace to the master bedroom.
Master bathroom, get inspired while taking your shower
Blue bedroom with view on Sivota's bay
Shower room to the blue room
Bedoom at garden floor with TV 40 "and dressing
shower room garden floor, with its mosaic kite surfing
4th bedroom with 2 twin beds near the cinema hall.
Various facilities to enjoy the different times of the day.
terrace meals in continuity of the kitchen
it's time for the aperitif !!
terrasse in continuity of the kitchen
Charcoal barbecue to enjoy delicious grilled
large terrace south and west around the pool
beautiful olive grove in the property
Relaxing hammock in the shadow of olive-trees facing the sea
The perfect place for relaxation or cocktails late afternoon
charm and tranquility of your terrace a few meters from the village
All for a dream holiday, just enjoy.
TV lounge 46 "and its fresco inspired by the sweetness of life in Greece.
Large entrance and parking
Small pebble beach just below the villa
Villa Sivota just a few meters from the village ..(on the right)
large terrace south and west around the pool
Charm of a corner terrace
Pool and relaxation terrace in continuity of the villa
Open kitchen extending into the living room, terrace and pool
Open kitchen with beautiful window overlooking the harbor of Sivota
TV room opening by large windows on the dining terrace
Very large open room with livingroom, kitchen, entrance
Master bedroom on 1st floor with bathroom and private terrace
Enjoy the privacy of master bathroom with charming sea view
Blue bedroom on the ground-floor
Bedroom 3, at garden floor with toilet and private bathroom
Large dressing inside the bedroom 3
Feel the luxury of your holiday with this underground cinema
relaxing atmosphere in the twilight
Nice terrace around the pool
Lovely view over Sivota bay
beautiful olive grove with terrace hammock and relax
Hammock for extra relaxation in the shadow near the sea
Table setting among olive grows with access to the sea
Close to the beach with privacy guaranteed
Magnificent location for heavenly holidays
A tavern situated 2 minutes walk from the villa Sivota
Parkplatzzugang
Klimaanlage
antik
Art Deco
atypisch
Babybad
Babybett
Babysitter Empfehlung
Balkon
Baroque
Grill
Direkt am Strand
Mit Blick auf den Strand
Mixer
Bücher
Kino
Reinigung und Desinfektion
Reinigungsmittel
Kaffeemaschine
Concierge
kontaktloser check-in und check-out
zeitgenössisch
tägliche Hausreinigung
Geschirrspüler
DVD Player
ökologisch
imperial
Energieeffiziente Geräte
Wesentliches
Feuerlöscher
Erste-Hilfe-Set
Flacher ebener Weg zur Eingangstür
Freie Reinigung
Gefrierschrank
Kühlschrank
voll ausgestattete Küche
Garten
umzäuntes Grundstück
eingezäuntes Grundstück
Handschuhe verfügbar
Haartrockner
behindertengerecht
Handdesinfektionsmittel
Kleiderbügel
Heizung
Hochstuhl
historisch
Hi-tech
Staubsauger
warmes Wasser
Internet
Bügeleisen
Wasserkocher
Kinderfreundlich
Laptop-fähiger Arbeitsplatz
Bettwäsche und Handtücher
Gepäckaufbewahrung
Masken verfügbar
Massage buchbar
Mikrowelle
minimalistisch
Moskitonetz
Kein Einweg-Kunststoff
Keine Einweg-Toilettenartikel
Bio-Lebensmittel & Getränke
Backofen
Parken inklusive
Haustiere erlaubt
Infinity Pool
Außenpool
privater Pool
Privatparkplatz
Privater Eingang
professionelle Reinigung
romantisch
Safe
Satellit oder Kabel
Meeresblick
Rauchen nur im Außenbereich
Social distancing
Angestellte tragen Schutzausrüstung
Stereoanlage
Für Kinder geeignet ( 2 + Jahre alt)
Geeignet für Kleinkinder ( Unter 2 Jahren)
Terrasse
Toaster
TV
viktorianisch
Videobibliothek
Auf dem Dorf
Weinberg
Kleiderschrank
Waschmaschine
Weinglässer
Holz
Arbeitstisch
Bewertungen
Nick W.

Nick W.

---

Nick Wakefield

Wonderful house thank you for a great holiday !

Katarzyna G.

Polen

Katarzyna G.

Polen

---

Katia

It was our 5th time at Villa Thalassa! We are in love with the village and the house. The standard of the house, the walking distance to all Sivota restaurants and shops and the amazing view of the marina makes us come back in the next years! Best vacation. Each and every time :)

James K.

James K.

---

Mr J King

Great Villa, stunning location and views with access to the whole of the island by boat or car readily available. Villa is very clean and the team provide very quick solutions to any needs.

Sarah-Jane M.

Griechenland

Sarah-Jane M.

Griechenland

---

Perfect Location with stunning views of Sivota Port

Villa Sivota is a great place to stay, conveniently located in the port of sivota allowing you to walk to all the shops and restaurants. We were a party of 8 and all the rooms were very comfortable and the kids loved the cinema room. There were a few teething problems to start with but these were quickly rectified. Lovely space, very well kitted out with everything you could need and we had a very happy weeks holiday there.

Corrine H.

Vereinigtes Königreich

Corrine H.

Vereinigtes Königreich

---

Superb

Superb location for us, as we had our boat moored just below the villa, plenty of room for us all ( 8 adults), a most enjoyable and relaxing week. Thought pool looked a bit small in the photos but it was not in real life and plenty of fun was had in and around it. Highly recommend.

Greg B.

Vereinigtes Königreich

Greg B.

Vereinigtes Königreich

---

Mr Gregory Brenman

We had a wonderful holiday in our Sivota villa and were truly looked after by Anna and Mema. Thoroughly recomended!

Lesley H.

Neuseeland

Lesley H.

Neuseeland

---

Lesley and Chris New Zealand.

Our two week stay at Villa Sivota was magical. The family holiday was to celebrate my 70th Birthday in a country and Island we have grown to love. The location was perfect - we could wander the village of Sivota- go tramping in the lovely hills - swim in the sea or do what we mostly did - stay home and relax in the pool and garden. The service we received from Mema and her Team was amazing - 10/10 to them all. With ages ranging from 76 to 21 months - 10 people had the best ever holiday together at Vill Sivota in July 2018.

Shan B.

Shan B.

---

Thank you to the team of Lefkas Travel

Thank you all at Lefkas Travel and especially Anna and Mema. Our guests arrived to a very clean, almost immaculate villa. They 'welcome basket' was so well thought out. From fresh fruit to cold wine, beers and water in the fridge, ice in the freezer and all of the basics for a relaxed evening, after a long flight. Mema was on hand whenever we needed her, and always with a wonderful sense of humour. The villa is beautiful and carefully laid out. With large areas for group gatherings and small, quiet 'nooks' tucked away for those who wish to have some quiet time. The cinema was a WOW, but unfortunately, everyone was having such a great time in the pool, or in the village that it was used only once. The entire villa was very well equipped and we lacked for nothing. Would we recommend it, or would we come again? A definite YES! Highly recommended on every point. The booking of Villa Sivota through to the check in was professional and efficient. Thank you all again from a very happy family. A holiday we shall all remember.

Caroline K.

Vereinigtes Königreich

Caroline K.

Vereinigtes Königreich

---

Caroline Kirkwood

We had an excellent stay at Villa Sivota. The house has everything you could possibly want/need and it is in the perfect location, just 5 minutes walk to the village where there are numerous tavernas and shops. There are 3 small supermarkets which provide everything you need so you don't have to leave the village if you don't want to. Meme from Villas Thalassa was always at hand if we needed her, and she went out of her way to make things as easy as possible for us. The house was cleaned thoroughly every day by a lovely group of people who did the Job discreetly when we were in the house. We will definitely be returning to Villa Sivota and we would thoroughly recommend it to others.

David C.

Vereinigtes Königreich

David C.

Vereinigtes Königreich

---

Marion Cartwright

Everything was perfect from the pickup at the airport to the amazing villa, the location is outstanding - afew yards away from bars and picturesque restaurants.we were so sad to leave p.s the villa cinema room was fantastic!!!

Tom D.

Vereinigtes Königreich

Tom D.

Vereinigtes Königreich

---

Perfect Villa for our needs!

Thank you Anna and Tasos

amis m.

amis m.

---

nice villa, good location,warm welcoming

I love Greece but in villa sivota on lefkada island it is amazing thanks Anna and Tasos

Tim M.

Vereinigtes Königreich

Tim M.

Vereinigtes Königreich

---

Rare

I am a villa "anorak" I spend hours checking villas , dismiss many and check the few good ones on google earth . Villa Sivota was as good or better in every way . Trust me , I'm hard to please . The only downside ? The sea was v. Cold , maybe I'm just getting soft.

Sébastien G.

Sébastien G.

---

From the best experience ever!

This villa is so great and well located, right on the beach and 2 easy min by walk to the village restaurants and bar, while in quiet place. Just perfect! Great pool with stunning view on the harbour, it's a real relaxing show right here. Sounds system all over the house and the cinema are also so pleasing. That's for sure from the best experience ever! Anna and Tasos where very welcoming and always available to help with recommendations which made our experience amazing. I highly recommend this villa and holidays experience. A big thank you to all the the VillasThalassa team

philippe G.

Frankreich

philippe G.

Frankreich

---

I love Lefkada it is an amazing island.

My stay in villa sivota was great thanks to Villasthalassa team

philippe G.

Frankreich

philippe G.

Frankreich

---

Une magnifique villa pour se ressourcer en famille

Un lieu magique où les 18 ans de notre fils resteront à jamais gravés dans nos mémoires... Que demander de plus ? Une adresse a ne pas manquer !

philippe G.

Frankreich

philippe G.

Frankreich

---

A very nice experience but too short

For sure this island is a paradise.

philippe G.

Frankreich

philippe G.

Frankreich

---

Perfect location

I try this villa for one night in spring time and I decide to book it for 3 weeks next summer

philippe G.

Frankreich

philippe G.

Frankreich

---

I love this place

Thanks Anna for your welcoming we will come back

Louise A.

Vereinigtes Königreich

Louise A.

Vereinigtes Königreich

Maria J.

Vereinigtes Königreich

Maria J.

Vereinigtes Königreich

Cees V.

Niederlande

Cees V.

Niederlande

---

The house is situated perfect! Daily cleaning good and very helpful and friendly. Water pressure...

The house is situated perfect! Daily cleaning good and very helpful and friendly. Water pressure on first floor is poor, not what you expect by a luxe villa.

Neall J.

Neall J.

---

Great place to stay, it was just the two of us for a week. Villa has all the mod cons and great i...

Great place to stay, it was just the two of us for a week. Villa has all the mod cons and great internet reception. We had some mixed weather, so the cinema room and film library was a godsend. Definitely will look at coming back again and staying here.

Richard P.

Vereinigtes Königreich

Richard P.

Vereinigtes Königreich

Sebastien G.

Sebastien G.

---

I can't get enough of this villa and Sivota. Just perfect!

I can't get enough of this villa and Sivota. Just perfect!

jane t.

Vereinigtes Königreich

jane t.

Vereinigtes Königreich

---

Just amazing! Jerome made is so special & individual - thank you

Just amazing! Jerome made is so special & individual - thank you

Louise A.

Vereinigtes Königreich

Louise A.

Vereinigtes Königreich

Richard P.

Vereinigtes Königreich

Richard P.

Vereinigtes Königreich

ΓΙΩΡΓΟΣ Β.

Griechenland

ΓΙΩΡΓΟΣ Β.

Griechenland

---

...i had the time of my life....

...i had the time of my life....

Sebastien G.

Sebastien G.

Jeff W.

Vereinigtes Königreich

Jeff W.

Vereinigtes Königreich

---

Villa Sivota is ideally placed it is literally within the 150m of the harbour, this being crescen...

Villa Sivota is ideally placed it is literally within the 150m of the harbour, this being crescent shaped (c800m) and full of bars/restaurants. Being a very calm and protected harbour Sivota is used as a base for many yachts, as well as several local fishing operations, so there is always activity on the harbour side and the local fishermen keep the restaurants very well stocked with excellent reasonably priced fresh fish. Sivota isn't exactly up market or a great gastronomic delight but will appeal to those looking for a more casual experience. The villa is fully stocked with crockery etc has four bedrooms (three ensuite and is fitted out in a contemporary style – almost exclusively from Ikea! Lots of nice outdoor seating in sun and shade. One minor point is the lack of blinds etc at most of the bedroom windows, meaning you awake at sunrise. The cinema room is very good and we enjoyed that to the extent of deciding to incorporate one in our own home! The local infrastructure is not too robust and during our stay we lost both water and power (during a storm to be fair) and had relatively poor internet signal throughout our stay, this being fine for emails and general internet use but not good enough for the gamers in our party. The "no toilet paper down the toilet – no matter what used for" is a little off putting! I would stress these that all these infrastructure matters are general locality rather than villa specific issues. All of the people we dealt with in respect of the villa could not have been more helpful. Anna (manager), Jerome (the operations guy) and Debbie (the house maid) all did everything they could to be helpful always responding quickly and positively to all our queries, they certainly made the booking process and stay stress free. We would definitely like to return to Villa Sivota and have no hesitation in recommending this villa.

Richard P.

Vereinigtes Königreich

Richard P.

Vereinigtes Königreich

---

Perfection!!

Perfection!!

Marc G.

Vereinigtes Königreich

Marc G.

Vereinigtes Königreich

Emil Y.

Bulgarien

Emil Y.

Bulgarien

Nicola M.

Nicola M.

---

Excellent villa in a lovely , highly convenient location. Beach and village at your footsteps. Ho...

Excellent villa in a lovely , highly convenient location. Beach and village at your footsteps. House is super clean, well maintained by lovely caretaker Jerome and Debbie for the daily cleaning. A call and Jerome was instantly available to help!

Michael H.

Michael H.

---

Smile smile smile!!!!!!!!!

Smile smile smile!!!!!!!!!

Christos M.

Griechenland

Christos M.

Griechenland

Avi H.

Israel

Avi H.

Israel

---

it was the best vacation ever the villa and the crew was perfect and we will came to villa sivo...

it was the best vacation ever the villa and the crew was perfect and we will came to villa sivota again avi

Marjorie G.

Frankreich

Marjorie G.

Frankreich

---

Nous avons passé un séjour merveilleux

Nous avons passé un séjour merveilleux

Philippe G.

Philippe G.

---

sejour de reve en ce debut de mois de juin alors qu en France il pleut et fait froid j ai passe ...

sejour de reve en ce debut de mois de juin alors qu en France il pleut et fait froid j ai passe un semaine au paradis sous un soleil estival villa top avec son cinema en sous sol, son oliveraie et sa vue dominante sur la baie de sivota petite plage au pied de la propriete pour le bain du matin les tavernes a 2 minutes a pied pour un festival de poissons grilles on a loue le bateau de Yannis au ponton juste en dessous et sommes partis explorer les criques alentour c est sur nous reviendrons vite
Mehr anzeigen ↓