Villa di lusso sulla spiaggia con piscina privata e Cinema 99 " al piano interrato.
Con 220 m2, la Villa Sivota è la più grande vicino al pontone. Orientata a Sud, ha una situazione eccezionale. Direttamente sopra la piccola spiaggia, è a solo 5 minuti dai negozi e dalle cantine dell'affascinante paese di Sivota. Costruita recentemente, la villa è circondata da splendidi olivi e ha un accesso diretto al mare. Ideale per chi cerca lusso, fascino, intimità e il comfort di una casa spaziosa e completamente attrezzata. Concepita con alti livelli di qualità e situata in un luogo magnifico, tutto è stato pensato per farvi trascorrere un soggiorno meraviglioso. E' arredata con tecnologie di ultima generazione, e ha il proprio cinema privato cio' che la rende veramente unica. Per gli appassionati di barca, a 2 minuti c'è la posibilità di affittare un posto al pontone per la barca (da prenotare in anticipo).
All'esterno
Bella terrazza intorno alla villa con una splendida vista sul porto di Sivota : il grande angolo pranzo all'ombra della pergola, la griglia, un salotto a sud molto apprezzato in fine giornata, un altro attacato alla casa (chiuso solo su 2 lati con zanzariere) dov'è piacevole rilassarsi bevendo un succo di frutta o un ouzo…
Qualche scala giù, si trova una bella piscina a sfioro privata (9m x 4m) con idromassaggio, doccia solare e grande terrazza per l'abbronzatura o il rilassamento sugli sdrai all'ombra della grande vela tesa e protetti dalla vegetazione, con una bella vista sul porto.
Ancora qualche scala giù, scoprirete un bell'oliveto con un'amaca, una tavola e un banco all'ombra per fare la siesta di fronte al mare. Attraversando l'oliveto, in mezzo al canto delle cicale, si arriva direttamente in spiaggia.
Primo piano della villa
Una camera con letto King Size, bagno e wc e anche una splendida terrazza privata con vista sul porto e la baia di Sivota.
Piano terra della villa
Cucina arredata : vetroceramica, forno, microonde, lavastoviglie, frigorifero, congelatore, robot, macchina per il caffè…
Salotto con stupenda vista sul mare.
Una camera con letto King Size, doccia e wc, terrazza a sud con vista sul porto..
Pianterreno Giardino
Una camera con 2 letti singoli, doccia e wc. Porta di vetro aperta su un piccola terrazza e un passaggio che permette di giungere direttamente la piscina.
Uno spazio dedicato per la lavatrice e una piccola camera in più per due bambini.
Una sala di cinema con grande schermo di alta qualità di 99", una lavagna luminosa full HD 5.1 sound system.
+ Più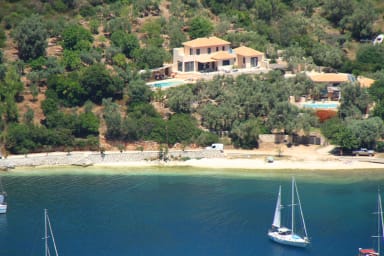 Environment Villa, olive trees, beach, sea and sailing
Master bedroom on 1st floor with bathroom and private terrace
Living room with large openings on the terraces and Sivota's harbour
Incredible view of the lovely port of Sivota
99" Underground cinema entertainment in your holiday villa
terrace meals and after a few steps the terrace around the pool
Every comfort is provided for the kitchen
This charming private terrace to the master bedroom.
Blue bedroom with view on Sivota's bay
Shower room to the blue room
Bedoom at garden floor with TV 40 "and dressing
shower room garden floor, with its mosaic kite surfing
4th bedroom with 2 twin beds near the cinema hall.
Shower room to the fuschia bedroom
Various facilities to enjoy the different times of the day.
terrace meals in continuity of the kitchen
it's time for the aperitif !!
terrasse in continuity of the kitchen
Charcoal barbecue to enjoy delicious grilled
large terrace south and west around the pool
beautiful olive grove in the property
Relaxing hammock in the shadow of olive-trees facing the sea
The perfect place for relaxation or cocktails late afternoon
charm and tranquility of your terrace a few meters from the village
All for a dream holiday, just enjoy.
TV lounge 46 "and its fresco inspired by the sweetness of life in Greece.
Large entrance and parking
Small pebble beach just below the villa
Villa Sivota just a few meters from the village ..(on the right)
large terrace south and west around the pool
Charm of a corner terrace
Pool and relaxation terrace in continuity of the villa
Open kitchen extending into the living room, terrace and pool
Open kitchen with beautiful window overlooking the harbor of Sivota
TV room opening by large windows on the dining terrace
Very large open room with livingroom, kitchen, entrance
Master bedroom on 1st floor with bathroom and private terrace
Enjoy the privacy of master bathroom with charming sea view
Blue bedroom on the ground-floor
Bedroom 3, at garden floor with toilet and private bathroom
Large dressing inside the bedroom 3
Feel the luxury of your holiday with this underground cinema
relaxing atmosphere in the twilight
Nice terrace around the pool
Lovely view over Sivota bay
beautiful olive grove with terrace hammock and relax
Hammock for extra relaxation in the shadow near the sea
Table setting among olive grows with access to the sea
Close to the beach with privacy guaranteed
Magnificent location for heavenly holidays
A tavern situated 2 minutes walk from the villa Sivota
Parcheggio accessibile
Aria condizionata
Antico
Art Déco
Atipico
Vasca da bagno per bimbi
Culla
Richiesta di una babysitter
Balcone
Barocco
Baia/laguna
Barbecue
Vicino alla spiaggia
Vista spiaggia
Frullatore
Passeggiate in barca
Cinema
Pulizia e disinfezione
Prodotti per la pulizia
Macchina del caff
Portinaio
Arrivo e partenza senza contatto
Contemporaneo
Pulizie giornaliere
Lavastoviglie
Lettore dvd
Ecologico
Impero
Energy-efficient devices
Essenziali
Estintore
Kit di Pronto Soccorso
Pulizie incluse
Freezer
Frigorifero
Cucina ben assortita
Giardino
Quartiere residenziale
Proprietà recintata
Guanti disponibili
Asciugacapelli
Accessibile ai disabili
Igienizzante mani
Appendiabiti
Riscaldamento
Seggiolone
Storico
Hi-tech
Aspirapolvere
Acqua calda
Internet
Ferro da stiro
Bollitore
Adatto ai bambini
Luogo adatto all'utilizzo di un laptop
Lenzuola e Asciugamani
Deposito bagagli
Porto turistico
Maschere disponibili
Massaggio su richiesta
Microonde
Minimalista
Zanzariera
No single-use plastic
No single-use toiletries
Organic food & beverages
Forno
Parcheggio incluso
Animali ammessi
Piscina a sfioro
Piscina all'aperto
Piscina privata
Parcheggio privato
Ingresso privato
Pulito professionalmente
Romantico
Cassaforte
Tv Satellitare o via cavo
Vista mare
Vietato fumare
Riduzione dei contatti
Il personale indossa equipaggiamento protettivo
Stereo
Adatto ai bambini (+ 2 anni)
Adatto ai bambini (- 2 anni)
Terrazza
Tostapane
Tv
Cittoriano
In paese
Vigneto
Armadio
Lavatrice
Bicchieri di vino
Legna
Scrivania
Recensioni
Kirsten A.

Regno Unito

Kirsten A.

Regno Unito

---

Villa Sivota - our best holiday ever

This villa is exceptional on every level. We loved the location overlooking the beautiful harbour and the view from the pool terrace where you can watch the boats coming and going below. Lovely waterside restaurants and well-stocked supermarkets are a short walk away and you can swim in the sea at the bottom of the garden. Our host Barbara was really helpful and the Greek people are very welcoming and hospitable. Our teenage boys enjoyed watersports at nearby Vassiliki and we all enjoyed the cinema room. Everything about this villa is 5 star!

Anna L.

Australia

Anna L.

Australia

---

Anna Littleboy

A perfectly laid out family home with beautiful views over Sivota and walking distance to everything. Our family met there for a week and loved it. Would love to do it again! Rentals company helpful and property manager, Barbara was excellent. Very well run, with care!

Nick W.

Nick W.

---

Nick Wakefield

Wonderful house thank you for a great holiday !

Katarzyna G.

Polonia

Katarzyna G.

Polonia

---

Katia

It was our 5th time at Villa Thalassa! We are in love with the village and the house. The standard of the house, the walking distance to all Sivota restaurants and shops and the amazing view of the marina makes us come back in the next years! Best vacation. Each and every time :)

James K.

James K.

---

Mr J King

Great Villa, stunning location and views with access to the whole of the island by boat or car readily available. Villa is very clean and the team provide very quick solutions to any needs.

Sarah-Jane M.

Grecia

Sarah-Jane M.

Grecia

---

Perfect Location with stunning views of Sivota Port

Villa Sivota is a great place to stay, conveniently located in the port of sivota allowing you to walk to all the shops and restaurants. We were a party of 8 and all the rooms were very comfortable and the kids loved the cinema room. There were a few teething problems to start with but these were quickly rectified. Lovely space, very well kitted out with everything you could need and we had a very happy weeks holiday there.

Corrine H.

Regno Unito

Corrine H.

Regno Unito

---

Superb

Superb location for us, as we had our boat moored just below the villa, plenty of room for us all ( 8 adults), a most enjoyable and relaxing week. Thought pool looked a bit small in the photos but it was not in real life and plenty of fun was had in and around it. Highly recommend.

Greg B.

Regno Unito

Greg B.

Regno Unito

---

Mr Gregory Brenman

We had a wonderful holiday in our Sivota villa and were truly looked after by Anna and Mema. Thoroughly recomended!

Lesley H.

Nuova Zelanda

Lesley H.

Nuova Zelanda

---

Lesley and Chris New Zealand.

Our two week stay at Villa Sivota was magical. The family holiday was to celebrate my 70th Birthday in a country and Island we have grown to love. The location was perfect - we could wander the village of Sivota- go tramping in the lovely hills - swim in the sea or do what we mostly did - stay home and relax in the pool and garden. The service we received from Mema and her Team was amazing - 10/10 to them all. With ages ranging from 76 to 21 months - 10 people had the best ever holiday together at Vill Sivota in July 2018.

Shan B.

Shan B.

---

Thank you to the team of Lefkas Travel

Thank you all at Lefkas Travel and especially Anna and Mema. Our guests arrived to a very clean, almost immaculate villa. They 'welcome basket' was so well thought out. From fresh fruit to cold wine, beers and water in the fridge, ice in the freezer and all of the basics for a relaxed evening, after a long flight. Mema was on hand whenever we needed her, and always with a wonderful sense of humour. The villa is beautiful and carefully laid out. With large areas for group gatherings and small, quiet 'nooks' tucked away for those who wish to have some quiet time. The cinema was a WOW, but unfortunately, everyone was having such a great time in the pool, or in the village that it was used only once. The entire villa was very well equipped and we lacked for nothing. Would we recommend it, or would we come again? A definite YES! Highly recommended on every point. The booking of Villa Sivota through to the check in was professional and efficient. Thank you all again from a very happy family. A holiday we shall all remember.

Caroline K.

Regno Unito

Caroline K.

Regno Unito

---

Caroline Kirkwood

We had an excellent stay at Villa Sivota. The house has everything you could possibly want/need and it is in the perfect location, just 5 minutes walk to the village where there are numerous tavernas and shops. There are 3 small supermarkets which provide everything you need so you don't have to leave the village if you don't want to. Meme from Villas Thalassa was always at hand if we needed her, and she went out of her way to make things as easy as possible for us. The house was cleaned thoroughly every day by a lovely group of people who did the Job discreetly when we were in the house. We will definitely be returning to Villa Sivota and we would thoroughly recommend it to others.

David C.

Regno Unito

David C.

Regno Unito

---

Marion Cartwright

Everything was perfect from the pickup at the airport to the amazing villa, the location is outstanding - afew yards away from bars and picturesque restaurants.we were so sad to leave p.s the villa cinema room was fantastic!!!

Tom D.

Regno Unito

Tom D.

Regno Unito

---

Perfect Villa for our needs!

Thank you Anna and Tasos

amis m.

amis m.

---

nice villa, good location,warm welcoming

I love Greece but in villa sivota on lefkada island it is amazing thanks Anna and Tasos

Tim M.

Regno Unito

Tim M.

Regno Unito

---

Rare

I am a villa "anorak" I spend hours checking villas , dismiss many and check the few good ones on google earth . Villa Sivota was as good or better in every way . Trust me , I'm hard to please . The only downside ? The sea was v. Cold , maybe I'm just getting soft.

Sébastien G.

Sébastien G.

---

From the best experience ever!

This villa is so great and well located, right on the beach and 2 easy min by walk to the village restaurants and bar, while in quiet place. Just perfect! Great pool with stunning view on the harbour, it's a real relaxing show right here. Sounds system all over the house and the cinema are also so pleasing. That's for sure from the best experience ever! Anna and Tasos where very welcoming and always available to help with recommendations which made our experience amazing. I highly recommend this villa and holidays experience. A big thank you to all the the VillasThalassa team

philippe G.

Francia

philippe G.

Francia

---

I love Lefkada it is an amazing island.

My stay in villa sivota was great thanks to Villasthalassa team

philippe G.

Francia

philippe G.

Francia

---

Une magnifique villa pour se ressourcer en famille

Un lieu magique où les 18 ans de notre fils resteront à jamais gravés dans nos mémoires... Que demander de plus ? Une adresse a ne pas manquer !

philippe G.

Francia

philippe G.

Francia

---

A very nice experience but too short

For sure this island is a paradise.

philippe G.

Francia

philippe G.

Francia

---

Perfect location

I try this villa for one night in spring time and I decide to book it for 3 weeks next summer

philippe G.

Francia

philippe G.

Francia

---

I love this place

Thanks Anna for your welcoming we will come back

Louise A.

Regno Unito

Louise A.

Regno Unito

Maria J.

Regno Unito

Maria J.

Regno Unito

Cees V.

Paesi Bassi

Cees V.

Paesi Bassi

---

The house is situated perfect! Daily cleaning good and very helpful and friendly. Water pressure...

The house is situated perfect! Daily cleaning good and very helpful and friendly. Water pressure on first floor is poor, not what you expect by a luxe villa.

Neall J.

Neall J.

---

Great place to stay, it was just the two of us for a week. Villa has all the mod cons and great i...

Great place to stay, it was just the two of us for a week. Villa has all the mod cons and great internet reception. We had some mixed weather, so the cinema room and film library was a godsend. Definitely will look at coming back again and staying here.

Richard P.

Regno Unito

Richard P.

Regno Unito

Sebastien G.

Sebastien G.

---

I can't get enough of this villa and Sivota. Just perfect!

I can't get enough of this villa and Sivota. Just perfect!

jane t.

Regno Unito

jane t.

Regno Unito

---

Just amazing! Jerome made is so special & individual - thank you

Just amazing! Jerome made is so special & individual - thank you

Louise A.

Regno Unito

Louise A.

Regno Unito

Richard P.

Regno Unito

Richard P.

Regno Unito

ΓΙΩΡΓΟΣ Β.

Grecia

ΓΙΩΡΓΟΣ Β.

Grecia

---

...i had the time of my life....

...i had the time of my life....

Sebastien G.

Sebastien G.

Jeff W.

Regno Unito

Jeff W.

Regno Unito

---

Villa Sivota is ideally placed it is literally within the 150m of the harbour, this being crescen...

Villa Sivota is ideally placed it is literally within the 150m of the harbour, this being crescent shaped (c800m) and full of bars/restaurants. Being a very calm and protected harbour Sivota is used as a base for many yachts, as well as several local fishing operations, so there is always activity on the harbour side and the local fishermen keep the restaurants very well stocked with excellent reasonably priced fresh fish. Sivota isn't exactly up market or a great gastronomic delight but will appeal to those looking for a more casual experience. The villa is fully stocked with crockery etc has four bedrooms (three ensuite and is fitted out in a contemporary style – almost exclusively from Ikea! Lots of nice outdoor seating in sun and shade. One minor point is the lack of blinds etc at most of the bedroom windows, meaning you awake at sunrise. The cinema room is very good and we enjoyed that to the extent of deciding to incorporate one in our own home! The local infrastructure is not too robust and during our stay we lost both water and power (during a storm to be fair) and had relatively poor internet signal throughout our stay, this being fine for emails and general internet use but not good enough for the gamers in our party. The "no toilet paper down the toilet – no matter what used for" is a little off putting! I would stress these that all these infrastructure matters are general locality rather than villa specific issues. All of the people we dealt with in respect of the villa could not have been more helpful. Anna (manager), Jerome (the operations guy) and Debbie (the house maid) all did everything they could to be helpful always responding quickly and positively to all our queries, they certainly made the booking process and stay stress free. We would definitely like to return to Villa Sivota and have no hesitation in recommending this villa.

Richard P.

Regno Unito

Richard P.

Regno Unito

---

Perfection!!

Perfection!!

Marc G.

Regno Unito

Marc G.

Regno Unito

Emil Y.

Bulgaria

Emil Y.

Bulgaria

Nicola M.

Nicola M.

---

Excellent villa in a lovely , highly convenient location. Beach and village at your footsteps. Ho...

Excellent villa in a lovely , highly convenient location. Beach and village at your footsteps. House is super clean, well maintained by lovely caretaker Jerome and Debbie for the daily cleaning. A call and Jerome was instantly available to help!

Michael H.

Michael H.

---

Smile smile smile!!!!!!!!!

Smile smile smile!!!!!!!!!

Christos M.

Grecia

Christos M.

Grecia

Avi H.

Israele

Avi H.

Israele

---

it was the best vacation ever the villa and the crew was perfect and we will came to villa sivo...

it was the best vacation ever the villa and the crew was perfect and we will came to villa sivota again avi

Marjorie G.

Francia

Marjorie G.

Francia

---

Nous avons passé un séjour merveilleux

Nous avons passé un séjour merveilleux

Philippe G.

Philippe G.

---

sejour de reve en ce debut de mois de juin alors qu en France il pleut et fait froid j ai passe ...

sejour de reve en ce debut de mois de juin alors qu en France il pleut et fait froid j ai passe un semaine au paradis sous un soleil estival villa top avec son cinema en sous sol, son oliveraie et sa vue dominante sur la baie de sivota petite plage au pied de la propriete pour le bain du matin les tavernes a 2 minutes a pied pour un festival de poissons grilles on a loue le bateau de Yannis au ponton juste en dessous et sommes partis explorer les criques alentour c est sur nous reviendrons vite
Mostra più ↓