Enjoy the sun loungers while being amazed from the astonishing sea view
Charming full moon enjoyment beside the pool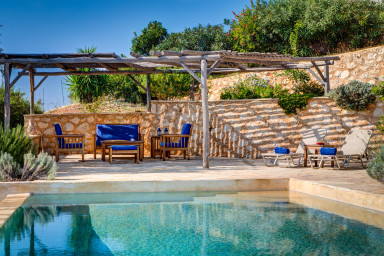 Outside living area beside the pool ideal for relaxing
Stylish bedroom 1 with ensuite bathroom
Lovely designed bathroom 1 with sea view
Another shot of bedroom 2
Uniquely designed and decorated bedroom 3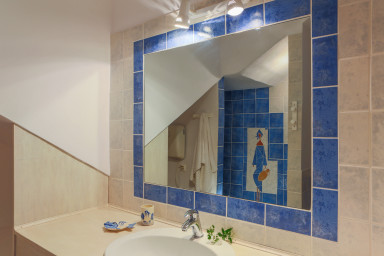 Broken tile mosaic as a detail from well designed bathroom 3
Enjoy the outdoor privacy and the fragrance of the flowers all around
Very comfortable living room for indoor relaxation
Fully equipped contemporary kitchen for your creative holiday meals
Perfectly located villa for incredible holiday experience
Splendid view of the endless blue Ionian Sea and surrounding islands
Romantic night image from the swimming pool area
Fill your eyes and soul with this flawless purple beauty
Magnificent location for heavenly holidays
Swimming pool and a gorgeous sea view
Shaded living area overlooking the sea for extra relaxing moments
Enjoy the calmness and peacefulness in bedroom 2 with ensuite bathroom
Tastefully designed and decorated bedroom 1
Fully enjoy and relax completely in bedroom 1
Luxury seafront villa as a little piece of heaven
Mezzanine bedroom 4 concept that looks appealing
Beautiful broken tiles mosaic as a great complement to the bathroom 4 design
Enjoy the privacy of bathroom 4
There where the nature and its beauty prevails
Small office space in bedroom 3 tailored to fit your needs
Mirror reflection of the lovely broken tiles mosaic in bathroom 3
Indoor dining table with widely open sea and islands view
Prepare your holiday meals in this comfy fully equipped kitchen
Refreshing and relaxing moments in or beside the pool
Excellent spot for the early morning sun gazers
Jacuzzi, pool, sea, sky blue for unforgetable holidays
Indoor dining table for enjoying your meals
Beautiful luxury seafront villa with private infinity pool
Villa Anatoli is ideal for bigger families or friends who want a relaxing holiday with a touch of luxury. The lovely sunrise will entice you to wake up early and you won't want to leave the beauty of this little piece of heaven. The only interruption to the endless blue of the Ionian Sea and the summer sky are the islands on the horizon. Directly dominating the sea with an exceptional view of the surrounding islands of Meganissi, Kefalonia and Ithaca, these vacation rentals are located only 400m from the pretty pebble beach, accessible by a short, steep path. The charm of the villa and the magic of the place make them the ultimate place to rest. The delicate fragrance of jasmine invites you to relax and meditate; colourful bougainvillea and geraniums provide a colourful backdrop to the deep blue water of the Ionian Sea. You can take a refreshing dip in the deep turquoise waters of your swimming pool before curling up for a nap in a hammock rocked by the sound of the cicadas.
Outside
Vast porch roof, patio and shaded pergola
Summer dining room (barbecue) and outside living room ideal for relaxing and naps. Large stones terraces around privates swimming pool with overflow (9m x 4m) and jacuzzi. Solar shower
Garden level
1 bedroom with twins beds (90 x 200) bathroom (shower and wc)
Ground floor
Living room (TV satellite), dining room and kitchen (freezer, dishwasher, oven). 1 bedroom with double bed (160 x 200) bathroom (shower and wc). 1 independent bathroom (bath and wc). 1 store room with washing machine
1st floor
1 bedroom with double bed (160 x 200) bathroom (shower and wc). 1 Mezzanine with twin beds (90 x 200)
Access
The villa Anatoli is located 2,5 km from the village of Sivota, Lefkada, with beautiful view over the Ionian Sea and its islands.
Please note that the last kilometer to arrive to the villa is non-asphalted
Spacious house facing south and east, very glazed with wonderful sea and islands view.
Reviews (
18

)
Sabine a.
Sep 15 by

Villa Anatoli is a great villa. It's perfect for two families, being roomy, cosy, and also having an amazing view. I recommed the villa because it's a good way to live by the sea and experience the days on your own. It's not far from any of the beaches offered by Lefkada. We hope to return sometime soon.

Jun 15 by Maria B.
Richard C.
Jul 15 by
Enrico C.
Jul 15 by

Always happy

Nov 14 by Michael D.
Alexandra F.
Sep 14 by

We took our family which was my daughter and her husband my son his partner and granddaughter . Me and my husband. The villa had plenty of room for all of us. Great BBQ area. And a great bathroom for our granddaughter. The pool was fabulous which was loved by our granddaughter for the first time! The views were stunning watching the boats going by. It was also very peaceful. We would definitely return there again and recommend to it to others.

Sep 14 by Karen P.

Villa Anatoli was for us as a family a unique place where we enjoyed for ten days our holidays in the spring of Greece. The fantastic view over the Ionic Sea, the ideal accommodation for four couples and two young grandchildren in a villa with all facilities that you may think of, in the vicinity of that lovely village of Sivota, made that we felt living in a paradise. This, combined with the great service and hospitality of Anna and her staff, made our holidays an unforgettable experience as we were part of a dream. Family of Truus and Jan Luijendijk, Ridderkerk, The Netherlands.

Jul 14 by Jan L.
Lise K.
Aug 14 by

Villa très agréable avec une superbe vue accès à une petite crique magnifique très bon séjour

Jul 14 by Philippe B.
Matej Z.
Jul 14 by
Nick S.
Jul 14 by

Beautiful villa. Only concern was too many wasps! Anna was very helpful

Jul 14 by Heather O.
Michael D.
Nov 13 by
Andreas M.
Oct 13 by
Andrey G.
Sep 13 by
Nina B.
Oct 13 by
Mark W.
Aug 13 by
Availability
Rates