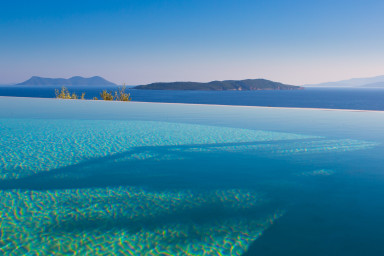 Unforgettable scenery and moments of relaxation in the swimming pool
Relaxing jacuzzi with exceptional view of the surrounding islands
Outdoor dining tables as a choice for enjoying your meals
A large, fully equipped contemporary kitchen for your creative holiday meals
Indoor and outdoor dining tables as a choice for enjoying your meals
Large, perfectly designed and decorated living room
Charming villa in the middle of lush greenery
Full moon reflections in the sea for unforgettable holiday moments
Shaded outdoor table beside the swimming pool with stunning sea view
Bedroom 1 with spacious ensuite bathroom
Thoughtfully designed bathroom 1 for your needs
Peacefulness and restfulness in bedroom 2
Comfortable corner of the mezzanine accessed from bedroom 2
Tastefully designed and equipped bathroom 2
Bedroom 3 with its stunning sea view
Tastefully designed and finely equipped bathroom 3
Beautifully arranged bedroom 4 with relaxing view
Fully enjoy and relax completely in perfectly decorated bedroom 5
A small piece of bedroom 5 decoration
Naturally shaded spots for extra relaxing moments
Outdoor barbecue grill as an option for the cooks
Living room with a beautiful view for greater satisfaction and enjoyment
Swimming pool setting as an example of perfection
Swimming pool as a great place to refresh and enjoy the attractive scenery
Bathroom 1 with excellent sea view
Enjoy your showering routine
Refreshing moments in the pool with extraordinary sea and islands view
Simple, but well thought out design of bedroom 2
Beautiful view as a great complement to this calm bedroom 2
Mirror reflection of the restful bedroom 2
Small detail from bathroom 2
Mezzanine accessed from bedroom 2
This is a place where nature is really generous
Comfortably equipped living room with lovely sea view
Very comfortable living room
Luxury villa settled amidst lush greenery
Big luxury villa with amazing seaview and very big outside area
This is the biggest of the Creek's villas. Ideal for big groups who like to enjoy their holidays away from noisy and tiring cities. One dive in the refreshing water of the swimming pool surfacing to the magic of the natural environment is enough to make you forget all your worries. In this relaxing scenery, viewing only the blue of the sea and the green of the trees, Villa Portokali is made to offer unforgettable memories. Directly dominating the sea with an exceptional view of the surrounding islands of Meganissi, Kefalonia and Ithaca, these vacation rentals are located only 400m from the pretty pebble beach, accessible by a short, steep path. The charm of the villa and the magic of the place make them the ultimate place to rest. The delicate fragrance of jasmine invites you to relax and meditate; colourful bougainvillea and geraniums provide a colourful backdrop to the deep blue water of the Ionian Sea.
OUTSIDE
Large stone terraces with beautiful garden, summer living room with very nice sea and island view, swimming pool with overflow and solar shower. Outside kitchen, BBQ and summer dining room, shaded pergola and a relaxing jacuzzi are some of the outsides facilities of this beautiful vacation rental.
GROUNDFLOOR
Living room with beautiful view (TV satellite, DVD player, WiFi internet connection). Fully equipped kitchen and dining room. Two bedrooms with queen size bed and bathrooms with shower. Two bedrooms with twin beds and bathrooms with showers. One more extra WC
1ST LEVEL
One bedroom with queen size bed, one bathroom with bath, shower and toilet. Private balcony
UNDERGROUND
Storage, washing machine and ironing room
ACCESS
The villa Portokali is located 2,5 km from the village of Sivota, Lefkada, with beautiful view over the Ionian Sea and its islands.
Please note that the last kilometer to arrive to the villa is non-asphalted
Reviews (
30

)
Villa Portokali is wonderful. The house is a very comfortable space to be in & the outside areas are very well planned & laid out with plenty of sun & shade. The views do not disappoint either. We LOVED the villa & would definitely recommend it. The only things it would be useful to be aware of are that the wifi is very poor - messages took a couple of days to arrive, book download via kindle was not possible & emails were sporadic! Not a problem for us on this occasion but could be. More local information in the villa would be useful including how to find the little beach path nearby, & where to get cash. For anyone planning to go, it is useful to book boats in advance of arrival & bring plenty of euros! Fabulous holiday. Thank you Anna & Jerome

Aug 16 by Georgina H.
Sisse G.
May 16 by

Wonderful Villa, very comfortable, great views. Ticks all the boxes.

Aug 16 by Peter W.
Atanaska P.
May 16 by
Wilfred C.
Jun 16 by

venu avec un groupe d amis on a adoré l'île de Lefkada suffisamment touristique pour y trouver des services et jamais le sentiment d agitation nous avons chaque jour de la semaine decouvert une nouvelle plage La villa a tout ce que l on attend le confort, la vue l espace et un acceuil trés sympa de Jérome qui nous a toujours trouver une solution pour louer un bateau,reserver des scooters etc à bientôt

Sep 16 by stage i.
Felix M.
May 16 by
Rosemarie T.
May 16 by
Alin U.
Jul 15 by

The villa was everything that we expected and more.Thank you for a great vacation

Sep 15 by Ivan C.
Marchioni P.
Sep 15 by

The villa has a fantastic view och the whole house and garden had a very high standard. The staff were very helpful and professional. Only problem was the wifi but this was a capacity problem the whole area experiences due to only one ASDL cable shared by all the villas.

Jul 15 by Mark G.
Trude S.
Jul 15 by
Marchioni P.
Oct 15 by

we were a group of two famelies, 9 pepole all together. villa portokali is very spacious, very well equipped. beatifully decorated. view is abseloutly amazing. Anna was very helpfull. perfect villa !

Jul 14 by sharon k.

Wir haben die Tage in der wunderschönen Villa Portokali sehr genossen. Wir waren eine Gruppe von 9 Erwachsenen und hatten alle sehr viel Privatsphäre und sehr viel RuckzugMöglichkeiten. Die Villa hat eine traumhafte Lage mit tollem Blick über die Inselwelt. Die ist modern und mit allem ausgestattet was man im Urlaub zur Erholung braucht. Die Betreuung war aufmerksam und hat uns mit vielen Tipps zu Ausflügen und schönen Stränden geholfen. Der tolle Pool und die schönen Terrassen liessen keine Wünsche übrig. Wir können die Villa nur weiterempfehlen. Einzig die Zufahrt und die letzten 1,5 km Weg sind Verbesserungswürdig. Wir kommen gerne wieder.

Oct 14 by Marion H.

Unico problema: la strada sterrata! Il resto meraviglioso

Jul 14 by Tommaso L.

Wonderful Island, Great Villa, Excellente Management

Jul 14 by Michael C.

Villa Portokali is the perfect place if you are looking for relaxing atmosphere. The villa is located in a quiet beautiful surrounding. The modern design as well as the high level of maintenance as well as the good cleaning performed prior to our arrival made our stay perfect. The only disappointment we had is that the Jacuzzi water is not heated (freezing).

Jul 14 by Engel A.

the prestations and the place are perfects. Anna and Jerome bring a real added value at our stay in the villa. Will certainely be back !

Sep 14 by Franck G.
Oleg M.
Jul 14 by

This was one of our best holidays we ever had, everything was perfect,also the weather (sunny and hot) ! The house was exactly like shown in the internet with an gorgeous view to the sea and enough space for 10 people ( 6 adults, 4 children). Nothing was missing and we really felt like at home. Thanks to Anna and Jerome we even felt more comfortable and got some valuable tipps for travelling, sailing, food .... The island itself is really worth to see, not so many tourists at all with small nice villages, perfect food and awsome beaches with turquoise water ! The villa is modern but comfortable and there is everything you need to have and if not they tried to make it happen for us. A perfect holiday in a perfect surrounding, we will be back ! Thanks for everything !

Jul 14 by Anja M.

Amazing place! Amazing Lefkas! The only word we can use is AMAZING! Thank you so ! BR, Bianka

Sep 13 by Bianka B.

We loved it and everyone was fabulous. Thank you very much. Only one comment - would be great if the bath in Liz's bedroom ( rhs bedroom with mezz) drained properly!

Sep 13 by Jessica S.
Marchioni P.
Oct 13 by
Nicolas S.
Aug 13 by

Villa Portokali ist a beautiful house with overwhelming views. Even the weather was not too good, we enjoyed our stay very much. Perfect housekeeping and always friendly and helpful hand by Anna. Lots of thanks. Petra

Oct 13 by Petra G.
Simona L.
Aug 13 by
Jean-Renaud P.
Aug 13 by

Fantastic, and so beautifull !!! A nice paradise .....

Aug 13 by Marchioni P.
Availability
Rates