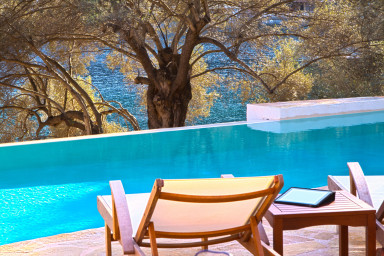 Swimming pool right on the beach
Crystal-clear pool water tempts to dip in and leisurely swim
Bedroom 1 with relaxing view
Swimming pool near the beach
Living room, kitchen, dining table
Very comfortable living room
Kitchen area with lovely outside view
Outdoor relaxing table setting
Another relaxing table setting
Outdoor dining table beside the swimming pool with excellent village view
Spacious bedroom 3 with TV
Bathroom 2 with beautiful broken tiles mosaic
Calmness beside and in the pool
Swimming pool in between the olive trees
Direct access to the beach
Luxury villa surrounded by beautiful olive trees
Bedroom 1 with TV and small office
Well decorated living room
Fully equipped kitchen for your needs
Large stone patio around the pool perfect for relaxing
Right on the Beach of Sivota with Private Pool and high standard equipment, you will love your stay at Villa Amoudia
Providing everything you need and set in a perfect location, Villa Amoudia is ideal for families with kids or those who want to have everything nearby (taverns, bars, supermarkets…) without having to rely on a car.
Designed with style and built by those with experience, the home automation system of the villa offers high standard equipment with last generation LCD TVs, Blu-Ray and sound system. Each bathroom is decorated with a unique mosaic.
From the terrace or the swimming-pool, you will enjoy the small harbour's life, the sailing boats, and fishermen emptying their nets…
If you have a boat or wish to rent one, you can book a place at the pontoon, just 2 minutes away by foot from the villa (in advance reservation).
Outside
You'll arrive to Villa Amoudia by a small road climbing above the beach of Sivota. A parking place and a garage are at your disposition. A lovely courtyard with a beautiful olive tree invites you to enter. Once in, a large bay window sets immediately the scene: shady terrace with summer eating area, extended by the infinity pool (8x4m), the solar shower and a beautiful view of the beach and the village of Sivota. Just beside, is a table with an electric barbecue sheltered by a magnificent centenary olive tree. Around the pool, some sun chairs are waiting for you. Stony stairs lead to the terrace of the ground floor room and gives access to the sea thanks to a small walk through wonderful olive trees.
Ground floor
From the entrance, you can reach:
Separate toilets, the first room with bed 160x200m, HIFI and TV flat screen 40", bathroom with shower and WC. From the room, there is a direct access to the terrace and the swimming pool.
Two stairs can serve the mezzanine or the ground floor.
The bright living room (TV Satellite, WiFi internet connection,...) and the dining room with large openings are invitation to calm and relax. Fully equipped kitchen.
One bedroom with Queen size bed and bathroom with shower. One extra WC
Garden floor
One big bedroom with twin beds (possibility to join them to have a bed 180x200) and bathroom, HIFI, TV flat screen 40", desk, access to a private terrace with sea sight. From there, you can join the swimming pool or the sea. Bathroom with tub.
Utility room (washing machine, iron, iron board), garage entrance.
Mezzanine
Attic bedroom over the living-room with 2 twin beds.
Reviews (
22

)
This villa was perfect for us just few minutes from tavernas a small peeble beach good welcoming from Anna and Jerome we will come back

Jul 16 by Philippe G.
Andreea V.
Aug 16 by

Recommend but a welcome pack with wifi pass code and places to eat visit etc would have been good. Jerome did give us a brief resume of the island when we arrived but it was all a bit too much to remember. Watch out for some big drops on the terrace that are not fenced. I really would not recommend this for small children. Otherwise I would agree with everything said in previous reviews.

Jun 16 by Justin R.

What we have enjoyed : - easy exchange of messages for the booking - Jerome booked a place at the pontoon for our boat - nice view and the villa in general was fine What could be improved : - 6 sun chairs instead of 4 so everybody can have one, with mats - the bandwidth of the wi-fi is from another age and should be reflected as such in the advertisement - TV channels ( available on only one TV) are quite limited - as mentioned before by others : provide a book with all relevant info (there is a limited one with urgency numbers), not just an oral statement when you arrive on the possibilities around sivota and Lefkas in general What we did not like : - lack of relevant answers for most of our remarks when leaving (e.g for the 6 chairs : "this is not what most of our clients require"; a book with explanation : "this is done for bigger villas only", the mats : "not possible because they are damaged by the clients"... ). Our final understanding is that the villa amoudia is a little villa that you take as it is, only bigger ones are the subjects of a better consideration but this did not disturb our holidays. To summarize, this is already a nice villa but there is place for improvement. Regards

Jul 16 by Martine C.
Gianmarco R.
Oct 15 by
Peter B.
Sep 15 by

Villa Amoudia is excellent. The accommodation and facilities are very comfortable and easy to use. The patio and pool area is very comfortable with good equipment for outside dining complete with barbecue. The Sivota Bay area is full of all the shops and restaurants you could ever need. We chose not to have a car so the local people and facilities was important to us. We found the people very friendly and helpful to us. The quality of the restaurants were of a very good standard, the Sivota Bakery shop and restaurant deserves a special mention. We found the peace and tranquility just what we were looking for, thank you Villas Thalassa. Jerome, Anna and Debbie deserve a special mention for there care and attention during our visit. We are sure to return. Regards Roger & Susan.

Jun 15 by Roger T.

Amoudia was perfect for our small group! An easy 2min walk to the bars and restaurants in Sivota yet private and luxurious. The terrace and pool ouze style and the funishings & decor are high quality. The pool even has inbuilt jacuzzi jets! 10/10 did not want to leave!

Sep 15 by Tom F.

it was just amazing the house just on the small beach with the infinity pool in the middle of so old and so nice olive trees all bedrooms wit flat tv and bluray and just 1minit from the taverne from Yannis where we eat very fresh and tasty grill fishes many thanks to Anna and Jérome for the welcoming and all the information on the island we will come back soon Athina

Sep 14 by stage i.
Justin F.
Oct 14 by

A wonderfully modern villa, with excellent facilities and a swimming pool offering extensive views over Syvota harbour.. Easy walking distance to stores, bars and tavernas. First rate maid service twice a week and pool cleaned regularly. TV and WiFi is very good. Manager on call for any problems. With two en-suite bedrooms, it is ideal for two couples, but the villa could cater for a couple of young children in a light airy room on the first floor. This May, for two weeks, was our third stay in Villa Amoudia and our tenth year on Lefkada. God willing, we will return.

May 15 by Brian P.

Perfect accommodation in a brilliant position, local to many wonderful tavernas whilst also being private.

Oct 14 by Shaun R.

We had a splendid week in Sivota renting villa "Amoudia" with Villas Thalassa company in July 2014. The location is excellent, and the ambience of the house and the surroindings is top notch. We rented a small motorboat in the port at Stavros boat rent, which took us out to Skorpios and other Islands, fantastic, strongly recommended. The only issue we had was when there were thunder and rain, all the fuses were blown in the house, and it takes considerable time before all electricity is up and working again - and internet. On the other hand this can not be blamed on Villas Thalassa staff, which were very friendly, and helpful, in the booking and whilst we spend the week there. Be aware that from the photographs it looks like a private beach, it is not private beach, and it is a stone beach - you need some kind of footwear to go swimming. We would definetely come back maybe to one of the other houses.

Jul 14 by Jannick M.
Siegfied E.
Sep 14 by

Our stay was really fantastic. Beautiful nature, clear sea, very tasty food...

Jul 14 by Mikhail G.

Excellent. But expect an offer to stay again... Thanks

Jul 14 by Papastefanou F.
Debbie C.
Aug 13 by
Brian P.
Jul 14 by

Very, very, very nice house. Beautiful spot, right on the beach with a perfect view. Private but in a way also a vivid environment. Because of the view: nobody can see you but you can see everything. Never a dull moment with a view like this. Boats sailing in and out, nice taverna's (walking distance) and happy people and sunshine everywhere. The house itself is also very nice. Perfect beds, showers (especially the one outside), big fridge, garage. And if necessary: airco. Do you consider a stay at Lefkada? Don't hesitate. It's a beautiful small, green island. Amazing beaches. Lots of sailing possibilities, good food. Yes, we certainly can recommend a stay in this house.

Nov 14 by Wanda K.

We spend a wonderful holidays in wonderful place. We liked everything villa,people and place. Thanks to Anna & Sebastian. Marina from Moscow

Aug 13 by Marina S.

All you need for a perfect holiday: swimming pool, restaurants close by, internet and a nice view at a perfect location. We have been in Villa Amoudia for the second time and most likely we will go there again, we really enjoy staying there...

Aug 13 by John B.

Villa amoudia is amazing! I booked it for my family whilst our yacht was in the harbour and we celebrated my birthday whilst there. It was perfect, so clean , spacious, and just right for the whole family. Anna who I dealt with to organise the week could not have been more helpful and Barbara the cleaner very tolerant of my messy family. The pool was fab, just right, with good views through the lovely olive grove to the water and moments from all that sivota has to offer. I couldn't rate it more highly. Really good value for money too. Thank you villas Thalassa. Lyn gosling

Aug 13 by Lynda G.
Availability
Rates