Charmante villa au coeur de la nature avec une vue mer imprenable.
La Villa Boubouki est la plus petite de nos villas. Elle est idéale pour les familles et ceux qui aiment être dans un endroit calme et reposant avec une vue panoramique sur la mer . Cette charmante villa est située dans un beau jardin coloré, où les papillons viennent flirter avec les fleurs . Dans ce bel endroit , quelque part entre les oliviers , notre petit bijou se cache , attendant que vous veniez le découvrir . Dominant directement la mer avec une vue exceptionnelle sur les îles environnantes de Méganissi , Céphalonie et Ithaque , cette villa est située à seulement 400m d'une petite crique avec une superbe plage de galets, accessible par un court chemin escarpé . Le charme de la villa et la magie du lieu en font l'endroit idéal pour y passer de merveilleuses vacances. Le délicat parfum de jasmin vous invite à vous détendre et à méditer ; bougainvilliers, géraniums, ... offrent une note de couleur à l'eau d'un bleu profond de la mer Ionienne . Vous pouvez prendre un bain rafraîchissant dans les eaux turquoises de votre piscine avant d'aller profiter d' une sieste dans le hamac bercé par le chant des cigales .
L'extérieur
Vaste terrasse en pierres avec une très belle vue sur la mer et les îles.
Pergola avec hamac, chaises longues; piscine à débordement (8m x 4m) avec douche solaire dans un écrin végétal, barbecue et salle à manger d'été complètent les aménagements extérieurs.
Rez de chaussée de la villa:
Salon séjour (TV satellite, lecteur DVD, mini chaine hifi, internet par WiFi), salle à manger et cuisine (congélateur, lave vaisselle, four)
1 Chambre avec lit double (160 x 200) avec sa salle de bain (douche et wc)
Lave linge dans le local technique de la piscine
1er étage de la villa :
1 Chambre à 2 lits (90 x 200)
Salle de bain (baignoire et wc)
1 Mezzanine avec couchage (80 x 180)
Petite maison de vacances à louer très confortable, climatisation, isolation renforcée et conception bio climatique. Elle est aménagée avec beaucoup de charme.
Accès
La villa Boubouki est située à 2,5 km du village de Sivota sur l'ile de Lefkada, avec une vue superbe sur la mer ionienne et ses iles.
Merci de prendre note que le dernier kilomètre pour arriver à la villa est non asphalté
Important note: The house is recently renovated and therefore some of the photos are temporarily placed until the profecional photoshoot is conducted.
+ Plus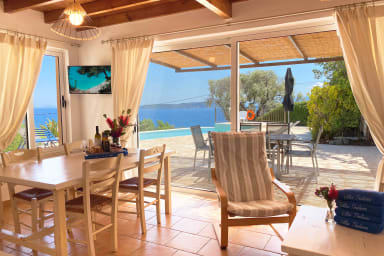 chambre 1 rez de chaussée
terrasse de la chambre rez de chaussée
partie de la salle de bain de la chambre rez de chaussée
bain de la salle de bain 1er étage
profitez de la terrasse et piscine de nuit
plan masse villa Boubouki
grande terrasse en pierres avec chaises longues, parfait pour se relaxer
vue traversante sur le séjour, terrasse, piscine et mer
entrée avec vue sur la cuisine par le miroir
chambre 1 rez de chaussée
chambre 1 rez de chaussée
douche de la chambre rez de chaussée
Boubouki sur la mer Ionienne
Perfectly located villa for incredible holiday experience
Parking accessible
Air conditionné
Antique
Art Déco
Atypique
Baignoire bébé
Lit bébé
Recommandation de babysitter
Balcon
Baroque
Barbecue
Mixeur
Livres
Ménage et désinfection
Produits de nettoyage
Machine à café
Concierge
Arrivée et départ sans contact
Contemporain
Service de ménage quotidien
Lave-vaisselle
Lecteur DVD
Écologique
Empire
Appareils à basse consommation
Produits de base
Oreillers et couvertures supplémentaires
Extincteur
Kit de premier secours
Ménage inclus
Congélateur
Réfrigérateur
Cuisine équipée
Jardin
Propriété clôturée
Gants disponibles
Sèche-cheveux
Accès handicapés
Gel hydroalcoolique
Cintres
Radiateurs
Chaise haute
Historique
Hi-tech
Aspirateur
Eau chaude
Internet
Fer
Bouilloire
Adapté aux enfants
Draps et Serviettes
Dépôt de bagages autorisé
Masques disponibles
Massage sur demande
Four micro-ondes
Minimaliste
Moustiquaire
Pas de plastique à usage unique
Pas d'article de toilette individuel
Aliments et boissons bio
Four
Parking Inclus
Accès à l'entrée bien éclairé
Animaux acceptés
Piscine à débordement
Piscine extérieure
Piscine privative
Parking privé
Entrée privée
Ménage professionnel
Romantique
Coffre-fort
Satellite Ou Cable
Vue mer
Interdiction de fumer
Distanciation physique
Personnel avec équipement de protection
Système Stéréo
Convient aux enfants (2 ans et plus)
Convient aux bébés (moins de 2 ans)
Terrasse
Toaster
TV
Victorien
Domaine viticole
Garde-robe
Lave-linge
Verres à vin
Bois
Avis
Ionut H.

Roumanie

Ionut H.

Roumanie

---

Enjoy the hospitality of your home in another location

Once again Villas Thalassa exceeded my expectations! Really felt like home! Everything you need in a nice, quiet and cozy location. The view is amazing despite of the wire that passes in front of the villa..but then again..you can completley ignore it as the breath-taking scenery catches your eye. During the day you can start exploring and visiting the amazing beaches in Lefkada..and only in the evening you can relax by the pool watching the moon and listening to the voice of the sea. P.s: Barbara is the best ! So better not try to avoid meeting her 😊Eitherway she will be there to welcome you with lots of ideas of how to spend your time, where to eat and how you can make the most of your stay!

Thomas G.

Roumanie

Thomas G.

Roumanie

---

great vacation at vila boubouki

We had great time at Vila Boubouki. Everything was great. Road to villa is not full paved but this is "normal".in Greece. Graat, almost private, beach. Quiet location and easy to get to all beaches of lefkada quite easily Ify ou want a quited time but with private pool.and a modern mediteranean style house then go for it. Price - quality ratio is perfect..

COLLOMB P.

COLLOMB P.

---

Great stay!

We had a wonderful time at Villa Boubouki! The house was perfect for a family of five, clean, convenient and well equipped. The pool and the view are dreamy. Barbara was available and of good advice. We definitely recommend it!

Stanley S.

Stanley S.

---

Villa Boubouki

Tout parfait! Villa privative avec vue splendide. Accueil de l'équipe (tous vraiment sympathique) de Villas Thalassa chaleureux, amical, souhaitant remédier à toutes nos interrogations. Excellente position sur Sivota à 2 km de tout commerce et restaurant. Seul bémol route non bitumée sur 1 km pour accéder à la location mais après l'effort le réconfort d'une location sans nulle autre pareil!

Thomas P.

Allemagne

Thomas P.

Allemagne

---

Hope to see you again

The handling through Villas Thalassa was friendly, competent and uncomplicated. The house is beautiful and equipped with everything important. The outdoor area is magnificent and the view is a dream. But the best of all is the incredible care of Barbara and Aris. Whatever you need they are always there to help you. These two make the stay truly unique. Once again thank you for your support and all the best.

Sarah H.

Sarah H.

---

Lovely villa, stunning views

Really loved this villa. We found everything just as described. We are a family of 5 (3 teenage kids). It was the perfect size for us. Enjoy the little (almost) private beach & Sivota which is a lovely village/harbour with a small number of excellent restaurants and shops. Car is pretty essential. Just be aware of the gravel/rocky road leading to the villa when choosing which car to hire. Would highly recommend

Patrick B.

Patrick B.

---

Briliant

Villa Boubouki was perfect for our family. The pool, terrace and kitchen were all on the same level, the bedrooms were very comfortable and the kitchen, BBQ area had everything we needed. Barbara was the perfect host, and was on hand and quick to respond to all our queries. She was very kind as well and went the extra mile to ensure we had everything we needed to enjoy our stay. The mid week clean was a bonus, they literally did not want us to lift a finger, leaving the property totally spic and span. The views from this villa are amazing too. Would love to come back again please.

Christelle P.

France

Christelle P.

France

---

Un lieu magique

Une vue splendide , une position ideale pour visiter le sud de Lefkada, 5 min en voiture (Juste une remarque pour les maniaques des pneus , la route est non bitumee pour la derniere partie ) ou 40 min a pied pour le joli port bien anime de Syvota; proche aussi de vassiliki pour les amateurs de windsurf; une crique paradisiaque à 10 min à pied Une piscine tres agreable, propre , dans la verdure Une maison tres fonctionnelle et charmante Un bon accueil à l'agence et surtout Barbara sur place, qui est efficace, disponible en cas de souci; tres sympathique, elle nous a donne plein d'infos utiles!

Annie H.

Royaume-Uni

Annie H.

Royaume-Uni

---

Villa Boubouki

We had a wonderful couple of weeks - the villa was just right and the views amazing. We were looked after incredibly well by the amazing Barbara who is simply one of the best hosts we have ever experienced. All in all, a great and much needed holiday made even better by some truly good people. We will be back.

Henri M.

Henri M.

---

Parfait

Bonjour, Tout était parfait. Juste une ligne électrique qui gâche l'excellence.

Katerina S.

Grèce

Katerina S.

Grèce

---

Απίθανη επιλογή για ήρεμες διακοπές! Θα επιστρέψουμε ξανά σύντομα...

Καταπληκτικό μέρος με απίθανη θέα! Η βίλα υπέροχη και βολική, νιώσαμε σαν το σπίτι μας με το που μπήκαμε μέσα. Η παραλίτσα που κρύβεται κάτω από τον λόφο, ένα διαμάντι μολις κάποια μέτρσα μακρυά, και η απομόνωση που προσφέρει ο χωμάτινος δρόμος μας έδωσε την ησυχία που χρειαζόμασταν. Οι άνθρωποι που μας φρόντισαν, όλοι καταπληκτικοί και φιλόξενοι! Από την κράτηση έως την αναχώρηση δίπλα μας να μας εξυπηρετούν και να μας φροντίζουν! Ευχαριστούμε Άννα για όλα και Βαρβάρα για το ζεστό καλωσόρισμα! Μην το σκεφτείτε δευτερη φορά... θα το λατρέψετε! Amazing place with incredible views! The villa is wonderful and comfortable, we felt like home, the moment we entered! The beach hidden under the hill, a beautiful diamond just a few meters away, and the isolation offered by the dirt road gave us the peace we needed. The people who took care of us, all amazing and hospitable! From the reservation to the departure, stood next to us to serve and take care of us! Thank you Anna for everything and Barbara for the warm welcome! Don't hesitate for a minute ... you will love it!

Tina K.

Royaume-Uni

Tina K.

Royaume-Uni

---

Another gorgeous break in Sivota

The fact we've returned to Lefkada for the 5th time and this villa for the 3rd shows how much we love it. The views and location are just stunning for us. Each year we try and come for a little bit longer. Already looking to see how long we can do next year - thank you to Anna and Katarina for all their help and Barbara in Sivota.

Stefan H.

Stefan H.

---

Perfect villa

Everything was perfect. To hosts helped us with everything, advices bookings. Every time we called they helped us. The villa is just something different. Something you have to experience at least once

Alexandre Z.

Alexandre Z.

---

Alexandre

Wonderful place, swimming pool on the property Breathtaking view

Leonie O.

Leonie O.

---

Familie Obermayer

Everything was great!

Thilo N.

Allemagne

Thilo N.

Allemagne

---

great experience

It was our third stay at Villa Boubouki - we enjoyed the beautiful place and the very kind support from Philippe and his team, especially Katerina with her helpful recommendations and great sense of humour! Evcharistoume para poli, Thilo + Karin

martinet

martinet

---

Great time one more time

Stay 15 days in Boubouki with a sunny weather using the swimming pool, feeling protected against the covid and enjoy each hour with sun rising : incredible ! The house was exactly what we expect (2 couples) Hard to go back home ...

Brenda F.

Royaume-Uni

Brenda F.

Royaume-Uni

---

An enchanting location ...

We have just returned from Sivota and our stay at one of Villas Thalassa. It really was delightful; magical Greece at its very best! From the moment we enquired, communication with the Thalasssa team was swift and reassuring. The villa was extremely well-equipped with attention to detail and some lovely unexpected touches. The location is stunning, with breathtaking views of the surrounding islands, the light constantly changing during the day. We especially loved watching sunrise and the tranquility of the early morning . In these uncertain times especially, these villas, tucked into a secluded corner of Lefkada, provide a peaceful refuge embracing sun and sea.....thankyou. Brenda

Tina K.

Royaume-Uni

Tina K.

Royaume-Uni

---

Our perfect holiday

With 2020 being such a difficult year for us all we were so happy that we still got out to Lefkada. Once again the team at Villas Thalassa were super helpful, flexible and lovely. This is our second time in one of their villas and we don't like to return to the same place - we like to explore. However, the positioning of every one of their villas is so well considered that the views from each are just captivating. That makes it so relaxing - and this is from someone who struggles to not do much. Lying in the hammock looking out to Atokos and Meganisi with my book and a glass of local, chilled rosé wine interspersed with a dip in the pool is pretty special. Then heading to any of the local little coves for snorkelling, driving up in the mountains to explore little villages, more amazing views, lentils and an old disused NATO airbase. Returning to the villas which have all you need - even a Nespresso machine if you decide you don't want to head to the harbour for breakfast. We're planning 2021 already and hoping we can increase the number of days we stay each year. Thank you everyone for your help. Tina and Giles

Thilo N.

Allemagne

Thilo N.

Allemagne

---

2nd stay - brillant again

we stood for the 2nd time in villa boubouki and it was brillant again. beautiful villa, breathtaking views and great, very kind hosts with top communication and responsibility also in pandemic times! evcharistoume para poli! hope to be back soon! Thilo + Karin

martinet

martinet

---

Perfect as we expect and more

We spend 2 weeks perfect. The house is so pretty and according with two couples. We felt in safety because the owner took care about coronavirus (information, cleaning ...) There was not so many people around so we lived in a fantastic peaceful atmosphere also in Sivota and other beaches. (Unfortunately for the kind Greek people) I was afraid about the plane, the airport, the proximity with others.. But i fell more in insecure when I come back in my country so surely I did a good choice.

Rachel I.

Rachel I.

---

Rachel

Lovely bright and spacious villa, tastefully furnished and well equipped. Large patio area outside with sun loungers, hammock and built in BBQ as well as a pool. The views were breathtakingly beautiful.

Melanie S.

Allemagne

Melanie S.

Allemagne

---

Amazing view from a quiet place

The Villa was very nice - it has everything you will need. We could really relaxed on this beautiful place on earth. The view from the terrace and own pool was really amazing. Just some things inside should be renewed.

Thilo N.

Allemagne

Thilo N.

Allemagne

---

what a great experience!

We had a realy great stay at Villa Boubouki! The house is very well equipped and clean, the pool is amazing and the views are breathtaking! Mema welcomed us in a very warm way, the communication was perfect! We enjoyed the full privacy and the beautiful surrounding of the Villa and of course the wonderful island of Lefkada! Evcharistoume poli, tha ta poume sindoma, Thilo + Karin

Cristian C.

Royaume-Uni

Cristian C.

Royaume-Uni

---

Guy S.

Israël

Guy S.

Israël

---

Fair value for money nothing beyond

Mema (the coordinator) was very helpful and tried the best. On the villa itself. Outdoor: The view is amazing, The pool is very nice. Too many mosquitos. Indoor: Very old and needs urgent renew. 2nd floor for the kids was very nice! The door to the master bedroom needs to be changed. The door in the shower doesn't close. There were ants all over the living room. One of the light didn't work. The WIFI was perfect! There is a washing machine near the parking which probably serves few villas for the crew but the water from the washing machine is covering all the parking with soap...WTF. Very nice welcome gifts (olive oil , etc...) The way there: need an SUV... Checkout time was 1030... very disappointing with the claim it needs 4 hours to clean for the next family. Bottom line: Nice but overpriced by far.

Simon C.

Royaume-Uni

Simon C.

Royaume-Uni

---

Simon and Mary

Fabulous villa. Very good hosts. Would come again.

Tatiana J.

Tatiana J.

---

2-weeks stay

We stayed at the villa Boubouki for two weeks. The house is quite functional and comfortable enough. The views from the swimming pool are stunning and it's definitely the best feature of the house. The house itself is a bit dated, overall I would say it's overpriced. Also, we had difficulty finding it, as the Villa sign was not there and the instructions were somewhat sketchy. It would be much easier to find if we just had the GPS coordinates of the house. On the positive side, the communication was good, and the weekly cleaning service was a welcome addition.

Gemma H.

Royaume-Uni

Gemma H.

Royaume-Uni

---

Villa Boubouki

We were very much looking forward to staying in this villa having heard great things about the group of villas from friends who had stayed in them previously. To be honest our villa was a bit disappointing - we appreciate it was a four person villa and so small but it lacked the charm we saw in other villas in the group and the master bedroom and bathroom were tiny and not of particularly high quality. The mosquito nets/netting was all coming away from the doors and we were bitten to bits and the door to the main bedroom didn't lock so we were not 100% secure which meant we didn't feel comfortable letting the children sleep downstairs. The master bedroom bed is also very uncomfortable and the mattress really needs changing (unlike the upstairs mattresses which are much better). The view is amazing and the location - despite being further from the port than we realised is great. We also loved the small beach that you can walk down to from the villa - this is a real highlight and one of the nicest beaches we found during our whole week (and we had explored several islands via rib during our stay). So a decent villa but not stella. We would go for a 4-6 man next time and look for more charm/a larger outside area.....

Marc F.

Marc F.

---

Villa boubouki

We spent a wonderful time at Villa Boubouki. The villa perfectly corresponds to the description on the website. The villa is well equipped and clean. Staff from Villa Thalassa diligently took care of us. We strongly recommend it.

Christina L.

Danemark

Christina L.

Danemark

---

Wonderful

New chairs for the outside table, and better internet would have lifted our evaluation to GOOD. Lovely place - and we will never forget the view of the see.

ΓΙΩΡΓΟΣ Ν.

Grèce

ΓΙΩΡΓΟΣ Ν.

Grèce

---

Amazing!

Everything was amazing! The view, the villa, the pool... Everything!!! Thank you!!! See you again...

Jean M.

France

Jean M.

France

---

Le reve

Nous avons passé un sejour merveilleux.L'accueil,les équipements de la maison sont parfaits.La vue panoramique nous a faits rever.Sejour propice à la contemplation.Jean Et Christine Maynadier.

Marilys D.

Marilys D.

---

joli petite villa nichée au dessus de la mer avec de beaux oliviers

Un sejour court mais très agréable

philippe G.

France

philippe G.

France

---

Un séjour merveilleux

J ai adoré, la vue sur les îles le calme la nature la crique à quelques minutes à pied le levé de soleil juste magique. La villa est simple mais avec tout ce dont on a besoin. l' accueil est attentif est pro merci à Anna et Tasos

Peter D.

Royaume-Uni

Peter D.

Royaume-Uni

---

Idyllic setting

Beautiful surroundings and pool. Comfortable accommodation, particularly the beds. Shower could do with updating and lighting improved esp replacement of missing light bulbs! We had a wonderful time here despite those minor things and contact with friendly hosts was easy. Cot and high chair were provided for our young family who joined us.

Grosjean p.

Grosjean p.

---

Un petit paradis à découvrir sans attendre

Une bien belle île, une villa bien située avec des levés de soleil magiques sur la piscine à débordement idéal pour les amateurs de nature. Merci à Anna et Tasos pour leur prévenance. Une petite famille enchantée de son séjour

Anna K.

Anna K.

---

Better than we could imagine!

Villa Boubouki is a small but very beautiful house in one of the most amazing spots of the island. The last part of the road is not asphalted, but a normal car can easily go with no problem and totally worth it as there is no traffic at all so the area is so peaceful. The view just blows your mind. Relaxing at the pool area and admiring the amazing scenery made us realise that we were so much needed this brake of the noisy town we live. The small beach near the villa accessed by a small path (a little steep) was fantastic and we loved that even in August it was never too busy. The villa itself was very clean and nicely organised with a fully equipped kitchen with everything you could possibly imagine. The team of VillasThalassa were so helpful from the beginning to the end and always had an instant reaction and answer to everything we asked for even late at night. Very professional and friendly at the same time, they made feel like home. Thank you so much! We will definitely be back very soon.

Steinmetz C.

Steinmetz C.

---

villa boubouki

Site merveilleux et calme, accueil exceptionnel. La meilleure destination pour des vacances reposantes, confortables en famille

David H.

Royaume-Uni

David H.

Royaume-Uni

---

Villa Boubouki was a very pretty villa, clean, well decorated with good facilities and an absolut...

Villa Boubouki was a very pretty villa, clean, well decorated with good facilities and an absolutely stunning panoramic view out to sea. It was great to have air conditioning in the rooms, including lounge, and the pool was large and clean with a good patio area including a hammock. The process of booking was easy and Villa Thalassa staff friendly and professional with Jerome in particular being very helpful to meet and greet and always on hand if needed. As stated in the villa information, the last kilometre of the road to the villa is unmade and a four wheel drive/jeep type vehicle is better suited to the road conditions than the saloon car we hired. Overall a lovely place.

Marzena B.

Marzena B.

---

Das war einafach eine wunderschoene Zeit ! Vielen Dank noch einmal fuer alles, wir kommen besti...

Das war einafach eine wunderschoene Zeit ! Vielen Dank noch einmal fuer alles, wir kommen bestimmt wieder :-))) I&A

Andrew M.

Royaume-Uni

Andrew M.

Royaume-Uni

Thierry H.

France

Thierry H.

France

---

Magnifique endroit, maison tres agréable et fonctionnelle. Il fait bon pssser du temps dans la pi...

Magnifique endroit, maison tres agréable et fonctionnelle. Il fait bon pssser du temps dans la piscine à débordement. Accueil des plus charmants.

Lalevee B.

Lalevee B.

---

Warm welcome, amazing sea view, quite place, good weather. Boubouki is a charming villa for our s...

Warm welcome, amazing sea view, quite place, good weather. Boubouki is a charming villa for our stay in Greece. This rental is also well located for visiting this beautiful island. Our stay was just perfect. It was our second stay in Boubouki and we will be back soon. What a shame to return to France

Ramona M.

Ramona M.

---

We had a wonderful holiday at Villa Boubouki. Its location is perfect and Sivota is a very nice s...

We had a wonderful holiday at Villa Boubouki. Its location is perfect and Sivota is a very nice small village. The view from the terrace is priceless. Even it is not a luxury villa, the property is clean, well kept and small details make it special. We were four adults and one child and there was enough space for us. If you are an internet addicted the weak wifi connection could be a problem. But this is a problem all over Lefkada and Kefalonia area. Anyway, you have a lot to enjoy in these marvelous islands so you can forget the internet for a few days. Thanks, Anna. Merci, Jerome! Nous esperons y revenir!

Θάνος Ζ.

Θάνος Ζ.

---

Great accomodation and service. We'll come back, for sure!

Great accomodation and service. We'll come back, for sure!

Mikael S.

Suède

Mikael S.

Suède

Tatjana M.

Serbie

Tatjana M.

Serbie

Cornelia M.

Cornelia M.

---

Das Haus liegt traumhaft und Jerome war wunderbar. Sehr sauber und ansprechend eingerichtet und e...

Das Haus liegt traumhaft und Jerome war wunderbar. Sehr sauber und ansprechend eingerichtet und eine Aussicht, die einen umhaut.

Marina S.

Marina S.

---

There was excellent! Incredible sea-view!

There was excellent! Incredible sea-view!

Gail H.

Royaume-Uni

Gail H.

Royaume-Uni

---

Villa Boubouki was beautiful, and we really loved the views of the sea. Both Anna and Jerome wer...

Villa Boubouki was beautiful, and we really loved the views of the sea. Both Anna and Jerome were very helpful as well. Hope to return again soon.

Audrey L.

France

Audrey L.

France

---

Amazing house, wonderful sight ! All was perfect.

Amazing house, wonderful sight ! All was perfect.

Dominic G.

Royaume-Uni

Dominic G.

Royaume-Uni

---

Nice and easy to deal with and views to die for. The villa is more or less the last development o...

Nice and easy to deal with and views to die for. The villa is more or less the last development on the west side of the harbour of syvota, 2.5 km from the harbour itself. Highly recommended.

Irina S.

Bulgarie

Irina S.

Bulgarie

---

We had an amazing stay at the villa. Everything looked exactly as we have imagined it from the pi...

We had an amazing stay at the villa. Everything looked exactly as we have imagined it from the pictures and even better. The view was absolutely breathtaking and the nature around was so enchanting. The house was very clean, well maintained, with beautiful architecture, made with great sense of style and idea about space and shapes. Our host was very nice and welcoming - gave us a lot of information about the nice beaches on the island, small shops around and basically everything we asked. It was perfect for our getaway and indeed at the end we didn't want to leave this truly charming place.

stage i.

stage i.

---

This small villa is just a part of paradise. The sunshine is incredible and the sea view amazing ...

This small villa is just a part of paradise. The sunshine is incredible and the sea view amazing the villa is simple but with everything we need the small peeble beach 5' by a path in the hill is perfect for swimm along the rocks bernard chantal martin and oscar

stéphane j.

France

stéphane j.

France

---

superbe endroit, vue magnifique. Si vous aimez la nature et la tranquillité, cela va vous séduire...

superbe endroit, vue magnifique. Si vous aimez la nature et la tranquillité, cela va vous séduire .On espère que cette île restera préservée Accueil très sympa

Jochen B.

Allemagne

Jochen B.

Allemagne

Renaud C.

Suisse

Renaud C.

Suisse

---

Hallo, Before and during our stay at Villa Boubouki we appreciated and enjoyed the greeting, t...

Hallo, Before and during our stay at Villa Boubouki we appreciated and enjoyed the greeting, the organisation for the carrental, the comfort of the house and the garden, the view, etc. ALL WAS PERFECT. Thanks a lot! Renaud Caron

Simona L.

Roumanie

Simona L.

Roumanie
Voir plus ↓