Welcome to a 400 m² luxury haven, with 6 bedrooms, private sea access, and infinity pool, where modern design meets comfort, cinema room for film aficionados, and a fully equipped kitchen to host all your meals.
Nestled in an idyllic setting, Villa Oneiro extends over an impressive area of ​​400 m2, combining luxury and comfort to offer its residents and guests an unforgettable experience.
Main Features:
5 Luxurious Bedrooms + one kids bed room with 2 bunk beds, each room is tastefully designed, offering comfortable beds, top quality materials, full bathrooms. The 3 top floor bedrooms offer stunning views to the sea and 2 have a garden view, ensuring a peaceful and rejuvenating stay.
Private Access to the Sea: One of the most enviable features of this villa is its direct and private access to the sea, with a private pontoon. You can immerse yourself in the crystal clear waters at any time of the day, without ever leaving the premises of the villa and also to enjoy a small trip with the paddles to the closest beach less than 250 meters away.
Infinity Pool: Overlooking the horizon with amazing view to Ithaca and Kefalonia islands, the villa's infinity pool seems to merge with the sea in the distance. It is the ideal place to relax, cool off on hot summer days, or simply admire the sunrise or sunset sky colors.
Cinema Room: For lovers of movies and entertainment, the villa has a very spacious cinema room, designed like a comfortable marocan living room.
Other Notable Features:
Elegant Design: The architecture of villa Oneiro is a harmonious modern design.
Fully Equipped Kitchen: For those who love to cook, the kitchen is equipped with the latest appliances and utensils, making meal preparation both enjoyable and efficient.
Furnished Outdoor Spaces: Whether dining alfresco, sunbathing or simply reading a book, the villa's terraces and gardens offer plenty of space to enjoy the outdoors.
Internet available in every rooms and outside terraces.
In short, Villa Oneiro is much more than just a place to stay. It is a sumptuous, retreat that takes you away from the daily hustle and bustle and plunges into a world of luxury, comfort and serenity.
Kindly be advised that the owner of the villa has done all necessary proactive disinfestation, always in line to the environmental laws for the protection of the natural life. However the property is located within the beautiful natural surroundings and contact with insects or small animals (eg stray cats, mice, reptiles, flies, mosquitos, ants etc) cannot always be prevented.
+ More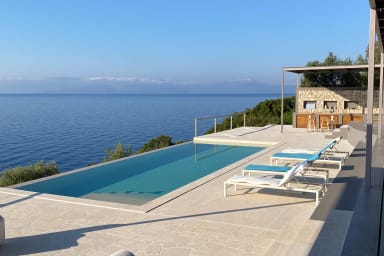 pravate access to the sea with 2 paddles
master bedroom, first level
incredible terrace master bedroom
ground floor, totally independent guest room
guest house with wonderfull view
basement guest room with its terrace with direct access to the ground floor
basement master bedroom bathroom
large 3-bed bedroom in the basement with direct access terrace to main terrace
3-bed bedroom in the basement with direct access terrace to main terrace
private bathroom of the 3-bed basement bedroom
small basement children's room
small basement children's room
Oneiro villa floor plan with private sea access
ground floor plan villa Oneiro
wunderfull villa Oneiro with private access to the sea
master bedroom, first level
master bedroom, first level
master bedroom and dressing
guest house with wonderfull view
guest house view on the garden
basement guest room with its terrace with direct access to the ground floor
basement guest room with its terrace with direct access to the ground floor
3-bed bedroom in the basement with direct access terrace to main terrace
private bathroom of the 3-bed basement bedroom
private access to the sea with paddles
Accessible car park
Accessible height bed
Air Conditioning
Antique
Art Deco
Atypical
Baby bath
Baby crib
Babysitter recommendation
Balcony
Baroque
Bay
BBQ
Bedroom step free access
Blender
Boat Dock
Boating
Cinema
Cleaning and disinfection
Cleaning products
Clothes Dryer
Coffee Maker
Concierge
Contactless check-in and check-out
Contemporary
Daily Maid Service
Dishwasher
Dvd Player
Ecological
Empire
Energy-efficient devices
Essentials
Fire Extinguisher
First Aid Kit
Free Cleaning
Freezer
Fridge
Full Equipped Kitchen
Garden
Gated Community
Gated property
Gloves available
Hair Dryer
Handheld shower head
Handicap Accessible
Hand sanitizer
Hangers
Heating
Highchair
Historical
Hi-tech
Hoover
Hot water
Internet
Iron
Kettle
Kids Friendly
Linen Towels
Marina
Masks available
Massage On Request
Microwave
Minimalist
Mosquito Net
No single-use plastic
No single-use toiletries
Ocean front
Organic food & beverages
Oven
Paddle
Parking Included
Path to entrance lit at night
Patio
Pets Considered
Ping Pong
Infinity pool
Outdoor pool
Pool Private
Portable wifi
Private Car Park
Private entrance
Professionally cleaned
Rainwater harvesting system
Renewable energy system
Romantic
Safe
Satellite Or Cable
Sea View
Secured parking
Shopping
Smoking Forbidden
Social distancing
Staff wear protective equipment
Stereo System
Stove
Suitable for children (2+ years old)
Suitable for infants (under 2 years)
Swimming
Terrace
Toaster
Tv
Victorian
Video Library
Vineyard
Washing Machine
Wine glasses
Wood
Reviews
Michela D.

Michela D.

---

Oneiro = Sogno

Immaginate di svegliarvi al dolce suono delle onde che danzano delicatamente sulla riva. Aprendo gli occhi, vi trovate avvolti nell'abbraccio di "Sogno", non solo una casa, ma un'ode alla magnificenza greca, un santuario di serenità che siede orgogliosamente di fronte al velo blu del mare, dove le acque cristalline sono solo l'inizio di un'esperienza indimenticabile. Ogni finestra di questa residenza è una cornice vivente che incapsula una vista da cartolina: Itaca, l'isola di Ulisse, si profila all'orizzonte come una promessa di avventure, storie e miti che si fondono con la realtà. Qui, ogni sguardo verso il mare vi connette con secoli di storia e leggende, lasciandovi a meravigliarvi se il grande Odisseo abbia ammirato lo stesso panorama nel suo epico ritorno a casa. La villa si estende con grazia su più livelli, ciascuno offre spazi aperti che invitano la brezza marina a entrare e animare ogni angolo. Le terrazze si spalancano verso il cielo e il mare, creando l'illusione che potreste quasi toccare le stelle o fare un tuffo nell'infinito blu con un semplice passo in avanti. La piscina a sfioro è come un pezzo di mare catturato apposta per voi, un luogo dove l'acqua si fonde con l'orizzonte in un abbraccio infinito. Che sia un alba tinteggiata di rosa o un tramonto che immerge il mondo in una luce ambrata, ogni momento a "Sogno" è un'opera d'arte che prende vita. All'interno, l'arredamento è un bilanciamento tra comfort e stile. ogni pezzo è scelto con cura per riflettere la bellezza naturale circostante e per offrire un'esperienza di soggiorno senza pari. Da camere da letto che sono nidi di tranquillità a spazi conviviali dove le risate echeggeranno contro le pareti imbiancate a calce, ogni dettaglio è stato pensato per il vostro piacere. "Sogno" non è semplicemente una casa, è un viaggio che inizia con un sogno e si materializza in un'esperienza greca indimenticabile.

Amandine F.

Amandine F.

---

Amazing stay at villa Oneiro

I recommend the villa, quiet place, very comfortable. Perfect sunset wit a glass of wine!

Renaud L.

Renaud L.

---

Great place for peaceful & relax moment

Pictures are not enough to show how beautifully this place is! Do not hesitate, this is amazing, staff is great, the pool with a view…you will not forget this villa!

Rita R.

Rita R.

---

Amazing

Wonderful stay,very clean and quiet ! Spacious and comfortable!!! Excellent location, spectacular view !! Would definitely stay here again

Marisabel S.

Marisabel S.

---

Hideaway of the Gods

Our vacations have been a true haven. This beautiful place, for us the "Hideaway of the Gods," enchanted us with its natural beauty and Mediterranean charm. Here, we found pure relaxation surrounded by crystal-clear waters and breathtaking beaches. Lefkada offered us more than just a place to unwind. The island is also a paradise for sightseeing and water sports. We explored ancient ruins, hiked through stunning canyons, and sailed in the turquoise Aegean Sea. In short distance from the house we enjoyed a variety of top-notch restaurants where we savored delicious Greek cuisine. Fresh fish, olive oil, local herbs, and vegetables have delighted our taste buds. Moreover, the taverns in the surroundings often came with breathtaking views what enhanced the culinary experience too. Also just staying at the beautiful villa Oneiro the unparalleled view of the azure sea and the picturesque landscape made us forget all everyday stress and brought us good cheer. The stay at in this faboulous house brought benefit to our body, soul and spirit. This place is truly a gem in the Aegean.

Philippe

Philippe

---

Un sejour ideal; un accueil tres chaleureux, une villa de rêve une ile magique

En un mot c'était parfait je reviendrai.
Show more ↓