Con 160 m2 di spazio e 2700 m2 di giardini paesaggistici, vi sorprenderà molto ben organizzato per 8 persone con quattro (4) camere da letto.
Le due terrazze,
con vista sulla piscina a sfioro ed estendendo la vista sul mare.
Non dimentichiamo l'area ricreativa dove è possibile rilassarsi sotto gli ulivi e fare uso della pallavolo e del campo da badminton
Questa villa ti consente di mantenere la tua privacy, godendoti ogni volta che vuoi.
Spazi esterni
Raggiungi l'area parcheggio circondata da ulivi e scendi fino all'ingresso della villa su una terrazza.
Sul retro della casa c'è un accesso esterno che porta alla terrazza sud.
C'è un grande tavolo da 8 persone, un barbecue con lavello e un piatto elettrico.
Salendo le scale trovi un'altra veranda con un tavolo quadrato con quattro panche dove puoi scoprire la piscina a trabocco 9 * 4.
È possibile salire sulle verande assolate dove ci sono 8 sedie a sdraio.
Andando lungo la piscina si scende alla zona relax.
Splendidi ulivi ti incanteranno e ti godranno questa area ricreativa o di relax.
Piano terra
Ingresso principale con cucina completamente attrezzata: piano cottura in vetroceramica, cappa aspirante, forno esterno, forno a microonde, lavastoviglie, grande frigorifero 60 x 200, caffettiera, cucina aperta nella sala da pranzo e nel soggiorno.
Salone con TV a schermo piatto e HiFi. Dal salone c'è l'accesso, nella camera da letto è possibile trovare un letto 160x200 con vista sulla piscina e sul mare. Troverete anche un ampio bagno con doccia aperto alla stanza. WC indipendente.
il pavimento
Stanza sud
Camera spaziosa con vista sulle isole, insonorizzazione molto buona, letto 180 x 200. Bagno aperto sulla camera con vasca idromassaggio (il perfetto relax con la migliore vista). Lavandino e WC indipendenti.
Stanza est
Indipendenza assoluta ... con accesso al balcone con vista sulla piscina, camera con isolamento acustico sud e molto buono. Letto 180 x 200 dove può essere convertito in 2 letti 90 x 200 su richiesta. Bagno aperto sulla camera da letto con ampia doccia, lavandino con vista sulla piscina e sul mare. Toilette indipendente
Piano terra – giardino
Sala cinema con schermo di proiezione fisso Lumene 240 c (larghezza 2,5 metri e altezza 1,5) Proiettore Sony VPL WV, lettore Blu-ray.
Camera con letto 180 x 200 dove può essere convertita in 2 letti 90 x 200 su richiesta. Accesso alla terrazza privata con doccia esterna.
Bagno: doccia interna, lavabo, vista mare.
Toilette indipendente
Lavatrice: una zona paesaggistica con lavatrice, asse da stiro, lavandino e una culla.
WC condiviso in tutta la casa.
Congelatore
+ Più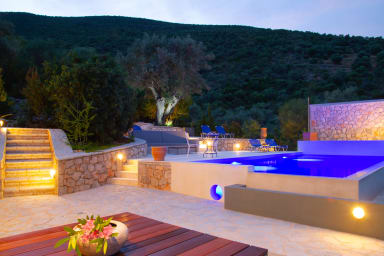 north terrace and swimming pool
terrace on the pool (9 metres long)
kitchen with swimming pool view
dining and living rooms with very nice view on Meganissi island
pool terrace with beautiful sea view
bedroom 1 with 1 bed 180 x 200
bathroom inside the bedroom 1
large garden with table tennis and petanque
bedroom 2 on the first level
private terrace from the bedroom 2
private terrace from the bedroom 2
bedroom 4 with garden terrace
from the terrace bedroom 2
parking & entrance villa Arkoudi
general view with the villa Arkoudi
private badminton court and volley ball
big garden with " petanque "
view on the island Meganissi
nice swimming pool view from the kitchen
full equipment for the kitchen
bedroom 1 : master bedroom
bedroom 1: view from the bath
master bedroom with 2 beds ( or can be together )
entrance and north terrace
wonderfull view from the outside shower
bedroom 2 with private terrace
terrace from the bedroom 2 with sea view and on the swimming pool
Parcheggio accessibile
Aria condizionata
Antico
Art Déco
Atipico
Vasca da bagno per bimbi
Culla
Richiesta di una babysitter
Balcone
Barocco
Barbecue
Frullatore
Campo di Bocce
Pulizia e disinfezione
Prodotti per la pulizia
Macchina del caff
Portinaio
Arrivo e partenza senza contatto
Contemporaneo
Pulizie giornaliere
Lavastoviglie
Lettore dvd
Ecologico
Impero
Energy-efficient devices
Essenziali
Cuscini e coperte extra
Estintore
Kit di Pronto Soccorso
Pulizie incluse
Freezer
Frigorifero
Cucina ben assortita
Giardino
Proprietà recintata
Guanti disponibili
Asciugacapelli
Accessibile ai disabili
Igienizzante mani
Appendiabiti
Riscaldamento
Seggiolone
Storico
Hi-tech
Aspirapolvere
Acqua calda
Internet
Ferro da stiro
Bollitore
Adatto ai bambini
Luogo adatto all'utilizzo di un laptop
Lenzuola e Asciugamani
Deposito bagagli
Maschere disponibili
Massaggio su richiesta
Microonde
Minimalista
Zanzariera
No single-use plastic
No single-use toiletries
Organic food & beverages
Forno
Parcheggio incluso
Percorso di ingresso illuminato di notte
Terrazza
Animali ammessi
Ping Pong
Piscina a sfioro
Piscina all'aperto
Piscina privata
Parcheggio privato
Ingresso privato
Pulito professionalmente
Romantico
Cassaforte
Tv Satellitare o via cavo
Vista mare
Vietato fumare
Riduzione dei contatti
Il personale indossa equipaggiamento protettivo
Stereo
Terrazza
Tostapane
Tv
Cittoriano
Vigneto
Armadio
Lavatrice
Bicchieri di vino
Legna
Recensioni
Joanna G.

Joanna G.

---

Joanna

This Villa is very confortable for 2 famillis. The view is amaizing. We were here 2 times and I think we will back in near future.

denis r.

denis r.

---

Super villa super environnement

Depuis trois ans nous programmons avec deux couples d'amis et les enfants la villa Arkoudi. la vue est magnifique et les terrains de jeux sont très appréciés. J'ai eu la chance d'être dans la chambre avec la baignoire thalasso, le soir avec la vue sur les îles c'est cool. Nous passons de bons moments devant un film dans la salle de cinema. Des DVD sont à disposition. L'île de Lefkada est pleine de pépites, nous en découvrons tout les ans une nouvelle. Du coté culinaire les petites tavernes sur le port de Sivota à 10 minutes de la villa, sont excellentes et pittoresques. Nous sommes tous ravis de l'ensemble des prestations.

Jason A.

Regno Unito

Jason A.

Regno Unito

---

Possible the greatest view in the world!

What an amazing villa! 5 stars without hesitation. Booking was simple, communication great (they accommodated an early check in and a late check out). The villa is spacious, four bathrooms and a fifth toilet in the basement. Amazing views from all windows, from the top bedroom you have a 180 degree view of the ocean with the most beautiful sun rises and a galaxy of stars at night. Well equipped throughout, you'll want for nothing. Unfortunately the projector wasn't working in the cinema room while we were there but I'm not sure we would have got round to watching it. Acres of space outside, plenty around the pool area but also around the back of the house too. Down from the pool is a Boules area and a table tennis table and also a badminton/volleyball court. It's so incredible peaceful at the villa (well apart from the final night when we were hit by a hurricane!). There's a beautiful bay down the hill, called Sivota, plenty of shops and restaurants to keep you entertained. If you want a little bit more, Nidri is only 15 minutes away. The only downside is that the road turns into a dirt track approaching the villa, a good couple of kilometres of rocky terrain up the cliff side, a little hair raising, particularly in a storm! Get a 4x4 hire car if you can!

Philippe G.

Francia

Philippe G.

Francia

---

Une sejour merveilleux

notre sejour dans cette villa tres recente a ete un enchantement la villa est tres bien equipee avec meme une salle de cinema climatisee pour les apres midi tres chauds nous sommes plutot actifs. la petite plage secrete à moins de 5 minutes à pied un vrai bonheur le wifi à plus de 50mega à ete une tres bonne surprise

Alina T.

Romania

Alina T.

Romania

---

Wonderful experience

Everything was great - the villa, its exquisite design and attention to details, the fantastic panorama from almost every room in the villa, the infinity pool. Ana and Katarina were great hosts, responded promptly to our requests. Thank you for a wonderful holiday! And this is an opinion shared by everyone in our group ( 6 adults and 4 kids). Alina

Odile R.

Odile R.

---

VACANCES MAGIQUES

Le site est somptueux,l'environnement nous a conquis,la vue mer........SUBLIME. La villa est très bien équipée et fonctionnelle.La décoration soignée nous invite à se sentir comme chez nous dès les premiers instants. L'espace détente très agréable,unique,au milieu d'oliviers + que centenaires. Nous avons également beaucoup apprécier les petites tavernes de Syvota Nos vacances ont été un bain de réjouissances pour toute la famille

Roy S.

Roy S.

---

DES VACANCES DE RÊVE !!!

Magnifique séjour dans une villa d'exception. Cette propriété très agréable et ressente nous a permis de passer des vacances de rêve. Même au mois d'octobre nous avons pu profiter de la piscine sous un soleil radieux,partie de boules en nocturne, sans oublié des sorties en Quads,des sortie en bateaux, de la planche à voile et du kit surf. Nous garderons également un merveilleux souvenir de cette vue insolite sur les îles Grecques, de ces petits villages atypiques et de l'accueil particulièrement chaleureux de la population. Nous avons vécu des moments magiques dans un cadre idyllique !! Nous pensons d'hors et déjà à réserver nos prochaines vacances pour l'année prochaine au même endroit. Sylvie

Isabelle D.

Isabelle D.

---

A beautiful hideaway

what an amazing staying in a beautiful luxuous villa in front of a wonderful panorama. Thank you so much for receiving us so well! We Will definitely Come back.

Vincent A.

Vincent A.

---

Wonderfull

Amazing staying in Villa Akourdi. Quietness, confort amazing view of the sea ans The bay. It was perfect. The village of Sivota and its Harbor is very cute and typical... Many things to do in The housse and in The area. We'll be back

Rolande

Rolande

---

Une villa moderne, tres bien amanagee dans un endroit de reve

Nous avons passe un excellent sejour, la villa est tres sympa, et propose une petite salle de cinema une table de ping pong un terrain de badmington et un jeu de boules. Notre plus grand bonheur etait de descendre a la plage a 5 minutes a pied de la villa. Une plage secrete quasi privee accessible que par la mer. Nous en avons profite pour decouvrir l ile de Lefkada et ses magnifiques plages celle de Kalamitsi a notre preference. Un grand merci `a Mema et Anna pour leur bienveillance et leurs precieux conseils.

Sylvaine

Sylvaine

---

Great vacation in Arkoudi

We spent very great Hollidays in villa Arkoudi! The house and outdoors are comfortable, with a beautiful swimming pool and view, we did many activities as volley ball, table tennis and bowling. The place is amazing with the sivota port just few kilometers.

Ruynat G.

Ruynat G.

---

Great fun at Arkoudi and what a view !

We had a very good family time at Arkoudi this summer ! No need to move, you have every in your hand. Chilling at the pool and if it gets too hot you play a movie in the home cinema. If you get boring of the view you can challenge your brother at ping pong or organize a petanque tournament in the evening with everybody. I wish you to stay in the room with the private balcony to experience a perfect sunrise, after that you must have breakfast in Sivota Bakery cafe and move to one of the great beach on the west coast. We will come again for sure :)

Artur M.

Artur M.

---

Nearly perfect stay for is'

A wonderfull and luxurious villa which fits 8 with comfort. Very well equipped and easy going. Beside the pool with marvellous view, we enjoy playing boulle and badminton in the evening and the kids even used the cinema. Car needed as it is over 2km to Sivota town, where you can find all you need to survive over a mainly dirt road. To improve is the internet, which was in fact nearly useless (LTE doesn't catch too). We missed a vine cooler and a knife for the bread - but this is really just to make it better then perfect.

Koenig A.

Koenig A.

---

que du bonheur!

Vous avez déjà pris votre bain face à l'immensité de la mer? Nous avons adoré! Elle est chouette cette maison pleine de goût , chacun son coin chambre, des jolies terrasses, super bien placée. Un jeu de boule où on a bien rigolé, la piscine tellement belle. Nous avons parcouru l'île sur un quad ...pour 30€ par jour! À fond sur les chemins avec plein de paysages différents, des jolis villages très préservés, des vues incroyables! Une séjour remarquable dans une très belle villa à Syvota.

Kechichian

Kechichian

---

Top!!

Super séjour ! , La villa est magnifique, avec une vue panoramique sur la mer, de la piscine à débordement et de quasiment toutes les pièces grâce à de grande baie vitrées. Suréquipé, clim, tv, électroménager, elle à même un cinéma privée !!. L'environnement est authentique, avec des endroits encore sauvage, le petit port de pécheurs, et ces petits restos. La possibilités de louer un bateau pour ce promener autour des îles. Ma femme et mes enfants ont adorés. Gregory, France.

Odile R.

Odile R.

---

Vacances de rêve

Une semaine de pur bonheur en famille,entre le confort intérieur de la maison,la vue à couper le souffle et la nature toute puissante. La cadre est idyllique. L'accueil très chaleureux. Nous avons bien profité des tavernes du port de Sivota,à 10 mn de la villa. Nous avons apprécié les plages de la cote ouest,la température de l'eau était encore très chaude en cette saison. J'ai particulièrement aimé mes bains dans la baignoire hydromassage de la chambre 1. Nous nous sommes beaucoup amusés au cours de nos parties de pétanque. Les petits et les grands ont également goûté au plaisir de regarder des films sur grand écran. Vacances très reposantes.Charmés par les lieux nous reviendrons à la villa Arkoudi.

Ruynat D.

Ruynat D.

---

Villa ARKOUDI et ses beaux espaces extérieurs

Nous sommes heureux de notre séjour. Les deux couples d'amis qui nous accompagnaient ont été enchanté aussi. Les aménagements intérieurs et extérieurs correspondent tout à fait aux explications et photos du site villasthalassa.com Nous avons bien profité en fin de soirée de la salle de cinéma. Les espaces loisirs ont été apprécié de tous ( parties de rigolade sur le terrain de pétanque ) Un lieu magnifique entouré d'oliviers. Nous avons aussi profité de l'île avec ses plages à l'ouest ( superbe coucher de soleil ) Merci à l'équipe villasthalassa, toujours disponible. Nous reviendrons.

Sabine a.

Germania

Sabine a.

Germania

---

Phantastic holidays, perfect relaxation!

We stayed for three weeks and enjoyed the villa and it's surrounding a lot. We did not miss anything in the villa and the Villas Thalassa team welcomed us warmly. We will be coming back!
Mostra più ↓