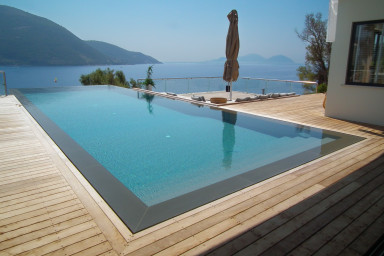 Very spacious villa with 5 bedrooms, big olive tree in the living, modern design, amazing sea view, private acces to the sea, just a dream.
The five-star Villa Doukato is located in one of the most beautiful areas of south-west Lefkada, overlooking the Ionian Sea. It is just a one-minute drive from the tourist resort and one of Europe's best windsurfing beaches, Vasiliki, and a 20-minute drive from one of Europe's most picturesque and famous beaches, Porto Katsiki. This exclusive five-bedroom villa is an architectural gem: each room gets plenty of direct sunlight and has a great sea view. This modern holiday rental is a jewel on the shore of Vasiliki Bay, recently built in a very quiet location and close to Vasiliki. The prestigious villa is carefully designed and built, provides complete privacy and is very spacious. With access to the sea only a few metres down and a 5-minute walk to a sandy beach, this is your dream property. It is ideal for family holidays or a group of friends. The island of Lefkada in Greece has tourist attractions to suit everybody: impressive scenery, long golden sandy beaches, crystal clear water, many orthodox churches, archaeological sites and museums in Lefkada. To discover the sea or enjoy the wind, hire a sailing or motor boat, a hobby cat or a windsurf kit. For trips on the islands, choose between a car, 4X4, quad, motorbike or mountain bikes. Villa Doukato is the best choice you can make for a luxury villa. Daily cleaning possible on request
Reviews (
14

)
perfect holiday

Sep 17 by George D.

We enjoyed a fabulous two weeks staying in Vassiliki, Lefkada in July 2017. The house was extremely comfortable and afforded fantastic views of the bay and surrounding islands. We spent many an enjoyable afternoon watching the windsurfers gliding over the waters from the houses pontoon on the beach below. Thank you.

Aug 17 by Anna l.

What a fantastic house viewing the windsurfers every day in the bay of Vassiliki!

Dec 16 by Peter

What a great holiday! Love Vassiliki, Love Villa Doukato!

Dec 16 by Giovanni

What a holiday! Never before we stayed in such a magnificent house. Close by the beach and nice village with its restaurants. Thanks!

Dec 16 by Sacha

My family and I had a great time staying in this magnificent villa and beautiful island Lefkada! Thank you

Dec 16 by Stella

Magic villa on a greek island

Dec 16 by Giovanni

Villa Doukato est une très très belle villa au look moderne et soigné avec ce magnifique olivier à l'intérieur du séjour. La vue est grandiose, la villa est spacieuse et très bien équipée. Merci à Anna de villasthalassa pour son aide précieuse pour planifier notre séjour. Nous sommes impatient d'y revenir Francia Paul et les enfants

Dec 16 by Francia

Staying in this wonderful, well designed and beautiful located villa, was amazing! The house was more than we expected. Very spacious, fantastic pool and jacuzzi, quite, clean, lovely caretakers and great windsurfing!! We will come back to Vassiliki!

Dec 16 by Stefan

Bellissima villa dotata di tutti i confort! Straordinaria Veduta sulla baia , posizione tranquilla e riservata. Consiglio installazione TV satellitare in caso di brutto tempo!

Dec 16 by Stefania F.

We had the perfect week at Villa Doukato. It was everything we expected and more. Beautifully designed, well equipped and with the most amazing view, it was the perfect venue for a relaxing family holiday. We loved the pontoon and used it daily for a sea swim. Thank you to Anna at Villas Thalassa for all her help and advice as we prepared for our trip.

Dec 16 by Sally T.

Great place. Wonderful house. Everybody enjoy the stay : parents ans kids.

Dec 16 by manuel f.

Beautiful view, stylish designed rooms. Had a fabulous stay and will return. Thanks!!!

Dec 16 by Nasser A.

everything was at maximum you could ask. very nice location / villa / staff thank you for everything, definetly i will recommend you as lots of friends were asking about the villa after seeing the facebook photos kind regards,

Dec 16 by Mihai C.