Πολύ ευρύχωρη villa με μεγάλη ιδιωτική πισίνα 12 m.
Η Villa Lefki είναι μια ολοκαίνουρια, πολύ ευρύχωρη βίλα ιδανική για τους ανθρώπους που χρειάζονται άνετους χώρους. Είναι ιδανική για οικογένειες τεσσάρων έως ατόμων ή για δύο ή τρία ζευγάρια. Η βίλα προσφέρει ανοιχτούς χώρους - ένα μεγάλο πανοραμικό παράθυρο στο σαλόνι με εκπληκτική θέα στην ανατολή, τη θάλασσα και τα ιστιοπλοϊκά σκάφη - μια τεράστια βεράντα με μπάρμπεκιου και υπαίθριο ντους - πολύ μεγάλη πισίνα (12 μέτρα) - ευρύχωρα υπνοδωμάτια με παρακείμενα λουτρά - μεγάλη κουζίνα - αυτό το άσπρο σπίτι προσφέρει άφθονο χώρο για όλους - ιδανικό για ένα χαλαρωτικές και χωρίς άγχος διακοπές. Επίσης υπάρχει Air conditionning σε κάθε δωμάτιο.
Εξωτερικοί χώροι
Πέτρινη βεράντα, ψησταριά και μεγάλη σκιερή τραπεζαρία (άνετα καθίσματα για 8-10 άτομα), ωραία πέργκολα που περιβάλλεται από λεβάντα και δεντρολίβανο, μεγάλη ιδιωτική πισίνα με υπερχείλιση (12m x 4m), υπαίθριο ντους, μικρή βεράντα απομονωμένη πρωί από ένα μικρό κήπο με τριανταφυλλιές - ιδανικό για το πρώτο σας φλιτζάνι καφέ, ενώ βλέπετε τον ήλιο να ανατέλλει.
1ος Όροφος
Μεγάλο υπνοδωμάτιο με διπλό κρεβάτι (180x200) και ευρύχωρη εντοιχισμένη ντουλάπα, και δικό του μπάνιο (μπανιέρα με πανοραμικό παράθυρο με θέα στη θάλασσα), ξεχωριστό WC, άμεση πρόσβαση στην απομονωμένη βεράντα που προσφέρει εντυπωσιακή θέα στη θάλασσα και το γειτονικό νησί Αρκούδι.
Γραφείο (17 τμ) με μεγάλη επιφάνεια εργασίας, και δύο μονά κρεβάτια, μικρή βιβλιοθήκη, άμεση πρόσβαση στην απομονωμένη βεράντα. Ξεχωριστό WC με ντουζιέρα στο ισόγειο.
ισόγειο
Ευρύχωρο υπνοδωμάτιο με δύο μονά κρεβάτια (90x200), με δικό του μπάνιο με WC και καμπίνα με ντους ψιλής βροχής, επιπλέον μεγάλες πόρτες εισόδου στο υπνοδωμάτιο και μπάνιο, όλα χωρίς φραγμούς, άμεση πρόσβαση στην βεράνταί.
Μικρό ξεχωριστό μπάνιο με WC και ντους.
Λευκή αστραφτερά κουζίνα με φούρνο / πλυντήριο πιάτων / ψυγειοκαταψύκτη, μεγάλη νησίδα κουζίνας που προσφέρει άφθονη επιφάνεια εργασίας για τους λάτρεις του μαγειρέματος, χωρίς ψηλά ράφια - μεγάλη συρόμενη πόρτα με άμεση πρόσβαση στη βεράντα (μπορείτε να παρακολουθείτε τα ιστιοφόρα να περνούν ενώ προετοιμάζετε το δείπνο ...).
Ανοικτό καθιστικό / τραπεζαρία (περίπου 40 τμ!) Με δύο μεγάλους καναπέδες μπροστά από το μεγάλο παράθυρο, μπουφές με μεγάλη τηλεόραση επίπεδης οθόνης, μεγάλο τραπέζι για 6-10 άτομα και highboard.
υπόγειο
Μικρό δωμάτιο με πλυντήριο ρούχων, σιδερώστρα, κτλ.
Πρόσβαση
Η βίλα βρίσκεται 2,5 χιλιόμετρα από το χωριό Σύβοτα, Λευκάδας με όμορφη θέα στο Ιόνιο Πέλαγος και τα νησιά της.
Παρακαλώ σημειώστε ότι το τελευταίο χιλιόμετρο πριν φτάσετε στην βίλα δεν είναι ασφαλτοστρωμένο.
+ More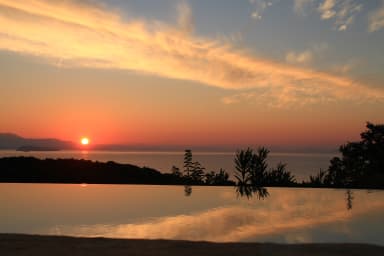 beautiful sunrise over pool
Master bedroom on 1st floor with bathroom and terrace
Bedroom 1 with great charm and sea view to the east.
Bathroom and independent toilets
Master bedroom on 1st floor with bathroom and terrace
Master bedroom on 1st floor with bathroom and terrace
very large terrace at sunset
Dining area, large bay window to the south overlooking the shaded terrace
splendid sea view from the living room
Dining area, large bay window to the south overlooking the shaded terrace
private toilet in master bedroom
small corner terrace with beautiful sea view
Accessible car park
Air Conditioning
Antique
Art Deco
Atypical
Baby bath
Baby crib
Babysitter recommendation
Μπαλκόνι
Baroque
BBQ
Μπλέντερ
Βιβλία
Κεντρική Θέρμανση
Cleaning and disinfection
Cleaning products
Καφετιέρα
θυρωρός
Contactless check-in and check-out
Contemporary
Καθημερινό Καθάρισμα
Πλυντήριο Πιάτων
Dvd Player
Ecological
Empire
Energy-efficient devices
Είδη πρώτης ανάγκης
Extra pillows and blankets
Fire Extinguisher
First Aid Kit
Free Cleaning
Καταψύκτης
Ψυγείο
Πλήρως Εξοπλισμένη Κουζίνα
Κήπος
Gated property
Gloves available
Πιστολάκι
Πρόσβαση ΑΜΕΑ
Hand sanitizer
Hangers
Heating
Highchair
Historical
Hi-tech
Ηλεκτρική Σκούπα
Hot water
Internet
Σίδερο
Βραστήρας
Kids Friendly
Linen Towels
Luggage storage
Masks available
MΜαζάζ κατόπιν Παραγγελίας
Μικροκύμματα
Minimalist
Σίτες
No single-use plastic
No single-use toiletries
Organic food & beverages
Φούρνος
Συμπεριλαμβάνεται Parking
Path to entrance lit at night
Patio
Επιτρέπονται τα κατοικίδια
Infinity pool
Outdoor pool
Ιδιωτική Πισίνα
Ιδιωτικό Πάρκινκ
Private entrance
Professionally cleaned
Romantic
Χρηματοκιβώτιο
Δορυφορική ή Καλωδιακή
Θέα στη Θάλασσα
Απαγορεύεται το Κάπνισμα
Social distancing
Staff wear protective equipment
Stereo System
Suitable for children (2+ years old)
Suitable for infants (under 2 years)
Ταράτσα
Τοστιέρα
Τηλεόραση
Victorian
Vineyard
Wardrobe
Πλυντήριο
Γάμος
Wine glasses
Wood
Reviews
Geoffrey H.

Ηνωμένο Βασίλειο

Geoffrey H.

Ηνωμένο Βασίλειο

---

Stay at Villa Lefki

Any guest will not be disappointed with this villa . The views are unparalleled and the villa is very roomy . A real gem !!

Eric e.

Γαλλία

Eric e.

Γαλλία

---

Séjour villa Lefki

Deuxième séjour à la villa Lefki, toujours aussi enchantés nous reviendrons avec plaisir.

ALISTAIR V.

Ηνωμένο Βασίλειο

ALISTAIR V.

Ηνωμένο Βασίλειο

---

The best villa we've stayed in!

Villa Lefki is a beautifully located property and of a very high standard. It's the best we've stayed in and the 12m pool is superb! Our holiday took several years to achieve because of the Pandemic but we finally got there and it was worth the wait! At the villa we had everything we needed and the Villas Thalassa team were fantastic! The complimentary wine was especially delightful. If we needed help they sent someone round within 30 minutes! Arris was a fix-it superstar and we can't thank our contact for the week, Theo (and his wife), enough for their advice on what to do on the island. When our flight arrived extremely late in the evening Theo was there at the villa to welcome us in person which we really appreciated. We've never been so well looked after on a holiday by a property management team! While we were there we experienced short power cuts and water cuts but we know from friends that this is the Lefkada way of life. Things get back to normal quickly. There were two stray cats that live nearby (another Greek norm) which are fed by the islanders. Take care, one is young and friendly and can scratch while playing. The other has one eye and is timid - but they both appreciated scraps of food and water. We couldn't help falling in love with both. All windows have superb electronic black-out blinds. A gentle lift with your hand normally helped the lounge one lift up if it got stuck. We hired a motorboat from Ionian Charters in Sivota Marina www.ionioncharters.com. Our boat was called 'London' and was perfect for 4 people. Yannis owns the boats and also a restaurant in Sivota Marina. We booked in advance online and sailed round the Island of Meganissi in a day, snorkelling in coves and then stopping for lunch at a super taverna. Yannis will show you where it is, set on its own with its own tiny beach, with plenty of shade and homemade lemonade - the highlight of our stay plus the private cove a 20 min walk from our villa! Take care along the steep unmade path!

Tobias B.

Γερμανία

Tobias B.

Γερμανία

---

Nice vacation

The villa is really excellent, very good equipped, great pool, great views. God bless the mosquito windows and the air condition. Sometimes the water (and power) didn't work but Theo was helping always. The Location is a little bit problematic. You need definitely a car and good driving experience. Beach and little harbor are not in walking distance. You always need a car.

Guy W.

Ηνωμένο Βασίλειο

Guy W.

Ηνωμένο Βασίλειο

---

Villa Lefki, Sivota.

This is an amazing Villa with stunning views out to sea. It's spacious and really well equipped with everything you could possibly need for a relaxing holiday. It has air con in all rooms which was a blessing given the heat when we stayed. It is 1.4 miles into Sivota and I would recommend a hire car if staying here. We would definitely return.

Clare L.

Ηνωμένο Βασίλειο

Clare L.

Ηνωμένο Βασίλειο

---

Unbelievable views

We thoroughly enjoyed our stay. The villa was well equipped and spotlessly clean. The outside space and glorious pool had the same stunning views as the villa and were very private. Close to Sivota which is the perfect little Greek harbour with excellent tavernas and a few nice shops.

Eric e.

Γαλλία

Eric e.

Γαλλία

---

Villa Lefki août 2021

Vacances en famille très agréables dans un cadre sublime. Vue magnifique sur la mer et les îles, villa très bien équipée avec de grands espaces et une décoration sobre et soignée,.Vastes terrasses , piscine de belle longueur. Un petit conseil au jardinier: tailler beaucoup plus court la haie longeant la piscine côté mer.

Caroline M.

Ηνωμένο Βασίλειο

Caroline M.

Ηνωμένο Βασίλειο

---

Amazing villa, insane views, perfect holiday

I couldn't recommend this villa more. It was spacious, fully equipped, peaceful and the view is extraordinary. You do need a hire car though and one that can cope on a bumpy, un-tarmaced road (unlike ours...). Get some shopping on the way up and then you can jump into the pool straight away!

Ben H.

Ben H.

---

Amazing location and amazing Villa

Villa Lefki is one of the nicest, cleanest, most peaceful villas ever stayed in. Ideal location (small swimming cove and wealth of restatuents both within a 5min walk/drive respectively). Villa is amazingly well equipped and every need is taken care of. The pool and the outdoor area is large, well equipped, clean and peaceful.Cant recommend highly enough.

Ernst J.

Ernst J.

---

Beautiful villa with a magnificent view

Villa Lefki is really a nice place to be. It provides all the comfort you can imagine and it has a stunning view at the sea. We have enjoyed our stay very much. Villas Thalassa thank you for the friendly welcome and hospitality.

Raymond

Raymond

---

Une semaine merveilleuse

Tout etait top on rviendra

Danielle R.

Ηνωμένο Βασίλειο

Danielle R.

Ηνωμένο Βασίλειο

---

A villa with a view

The first thing that struck us on arrival was the vastness of the villa and it's grounds. The photos do not reflect the size of Villa Lefki. There was so much space for a family of six and we never felt on top of each other. The villa is stunning with huge picture windows looking out to sea, we never got bored of waking up to the view from the master bedroom. The villa had everything we needed including a really well equipped kitchen. The pool area was just stunning with lots of seating and a large bbq. The pool is huge and very well looked after. Whilst we were there we had a problem with the filter but Aris and Nikos did everything they could to keep the pool clean whilst waiting for the part to fix the problem. Anna from Villa Thalassa was fantastic and nothing was too much trouble for her. Anna organised a second car to hire during our stay and organised the transfer back to the airport. Thank you Anna for all your help and making our holiday extra special. Sivota is a wonderful harbour with lots of bars and restaurants that all overlook the harbour. We hired a boat for the day from Sivota Bakery which was fun and a way to see some of the lovely sights out at sea. We are still dreaming of sitting by the pool of Villa Lefki and are talking of our return. Thank you Anna and team for such a wonderful holiday in sunny Lefkada.

Matthieu D.

Γαλλία

Matthieu D.

Γαλλία

---

Appréciation

Villa Lefki, magnifique et très bien équipée. Séjour parfait !

Tobias H.

Γερμανία

Tobias H.

Γερμανία

---

Großartig!

Wir waren im Juli 2019 für zwei Wochen in der Villa Lefki und hatten einen großartigen Urlaub. Die Villa ist traumhaft und lässt keine Wünsche offen. Auch die Betreuung durch das Team der Villas Thalassa vor Ort ist super. Wir können dieses Haus uneingeschränkt empfehlen.

Richard C.

Ηνωμένο Βασίλειο

Richard C.

Ηνωμένο Βασίλειο

---

Richard

Very nice villa, and we were well looked after by Villa Thalassa team. The large picture windows and ample level terrace give wonderful views out to sea and the islands around. Plenty of outside seating and shade, and of course an infinity pool. The village of Sivota is ideal for eating out in the evenings, and Vassiliki is nearby if watersports are on the agenda.

Helen S.

Ηνωμένο Βασίλειο

Helen S.

Ηνωμένο Βασίλειο

---

A wonderful villa in a wonderful location

We stayed in Villa Lefki for 10 nights in May. The villa is superb, a huge space with everything you need for a super relaxing holiday and it was great to have a pool large enough to swim properly in. There are so many places to sit and enjoy the view - early morning on the bedroom balcony, breakfast on the terrace, lunch in the shade under the veranda, G&T in the last of the sunshine. The villas are in a beautiful spot at the end of a dirt track on the little peninsular so are a good 30 minute walk back into Sivota village where you'll find plenty of places to eat and very friendly locals. You will need a car to get to the villa and to explore the rest of the island. If you like walking Lefkada has plenty to offer. We bought Lida Out's book "Lefkada on foot" and found the walks very accurately described with landmarks and accurate timings. We enjoyed a perfect mix of relaxing in our own space with getting out and about and seeing the rest of the island. We would have no hesitation in recommending these villas - in fact, our friends are there now and I only wish we were still there too,

Kathrin S.

Γερμανία

Kathrin S.

Γερμανία

---

Wunderschöner Urlaub

Wir hatten einen wunderschönen Urlaub in der Villa Lefki. Die Villa ist genauso wie auf den Bildern abgebildet...vielleicht sogar noch schöner. Vor allem der Ausblick auf das Ionische Meer und die vielen kleinen Inseln ist unvergleichlich. Und unvergesslich. Wir waren mit unserem 10Monate alten Sohn im Oktober dort. Es war noch ordentlich warm tagsüber aber nachts angenehm kühl. Jeden Morgen konnten wir den wunderschönen Sonnenaufgang bewundern. Am liebsten mit einem Kaffee auf der Terasse. Die Villa ist bestens ausgestattet und lässt keine Wünsche offen. Draußen gibt es einen Grill und drinnen eine perfekt ausgestatte Küche. Es gibt sogar einen Pürrierstab; fürs Brei kochen perfekt. Wir haben ein Babybett und Babystuhl bekommen. Für den Kleinen haben wir ein kleines Planschbecken gekauft, damit auch er planschen kann. Anna und Mema haben sich sehr um unser Wohlbefinden bemüht und uns sogar mit Babynahrung

Ria &.

Ria &.

---

Wonderful and relaxing vacation at villa Lefki

We had such a great time at wonderful and spacious Villa. All rooms are designed with simple elegant luxury and all is exactly as shown on the Website. We especially enjoyed the fully equipped large kitchen where preparing meals together is truly fun. The view is mesmerizing and just amazing. Thank you Anna and Mema for being so helpful whenever we needed you! We will be back next year!

philippe G.

philippe G.

---

C'est un peu comme si nous avions découvert un petit coin de paradis.

De retour pour la troisième fois dans une villa des Villas Thalassa, pour ce séjour en septembre nous avons eu une semaine avec un météo parfaite.Comme d'habitude l'accueil à été convivial. Comme nous arrivions d'Athènes nous sommes arrivés à la villa après 23 heures. Mema était la souriante pour nous souhaiter la bienvenue et nous faire découvrir la Villa Lefki que nous allions occuper pour la première fois. La grande baie vitrée du salon est comme un écran géant sur la mer et les îles, Dans cette villa tout est spacieux les chambres la cuisine avec son ilot central et la piscine qui doit bien faire 12 mètres de long.merci à toute l'équipe pour ce séjour.

Mark B.

Ηνωμένο Βασίλειο

Mark B.

Ηνωμένο Βασίλειο

---

Exceptional villa with beautiful views

What a wonderful place! Beautiful, simple, elegant design with the most stunning views from all rooms - so much so that we left the blinds open to see the most amazing sunrise each morning. A car is a must, as the villa is around 2km along an unmade road. Anna and Eleni made the whole trip so simple. Highly recommended. The only difficulty we had was the internet service provided was painfully slow for most of the day, and there was little in the way of mobile reception. It suited us to be cut off for the week, but it's worth bearing in mind if you need that connection.

Dani P.

Dani P.

---

Fantastic stay

Thank you for a great week in Villa Lefki. The quality of the villa was fantastic, very clean, spacious, fully equipped and brilliant air conditioning! As all the other reviews mention, the view is extraordinary- worth going just for that. We would highly recommend .

Marlyse

Marlyse

---

Excellent

Une villa manifique , beaucoup de confort , vue sur la mère.

Olive P.

Olive P.

---

Lefki...

J'écris en français en espérant que certains pourront le lire...nous avons A-DO-RE notre séjour là-bas ! a part les moustiques qui nous empêchaient de profiter de la terrasse à partir de 17h environ :) nous avons aimé la vue époustouflante, le silence, la beauté de la maison, sa fonctionnalité, le ménage en cours de séjour, le confort, la piscine (grande), l'immensité du lit au 1er étage, un seul mini bémol (par rapport à tt ce bonheur), l'accès à une vraie plage (mais on ne peut pas tout avoir :) MERCI !

Marilys/irene

Marilys/irene

---

Sejour de reve en Grece

J ai passe une semaine de detente et de ressourcement, J ai decouvert une ile attachante aux paysages tres varies avec de superbes plages une eau cristalline et des bleues turquoises magiques, La villa est spacieuse et bien amenagee, la piscine a debordement est grande on peut vraiment nager, La vue est merveilleuse et sur les terrasses la vie s ecoule paisiblement un seul regret avoir du quitter ce petit paradis sur terre,

Emmanuel P.

Γαλλία

Emmanuel P.

Γαλλία

---

Stunning view to the South

We had a perfect and restful 1-week stay at Villa Lefkis; the villa is very well equipped and the little hided cove just 5-10 mn walk from the villa. Just beware that the footpath is steep (was fine with us, but not recommended for elderly people). Thanks to Tasos for the welcome. And to Philippe and his wife who took the time to share helpful info with us re Sivota on our last day. Emmanuel & JC

Ria &.

Γερμανία

Ria &.

Γερμανία

---

Simply Wonderful!!!

What a great villa – so spacious (180 square meters!), beautifully furnished and perfectly equipped with everything one needs (we especially enjoyed the large kitchen and the impressive variety of spices provided for free!). Even with six people occupying the house there is plenty of room for everyone. We had a wonderful and relaxing time at this gorgeous villa – we will come back for sure! Here is one culinary tip: for fresh fish and perfect service go to Yannis' Ionian Taverna in Sivota (turn left (!) at the harbour), we spent many wonderful evenings on the upstairs terrace – we very much look forward to seeing you again next year in May!!!

Tim S.

Ηνωμένο Βασίλειο

Tim S.

Ηνωμένο Βασίλειο

---

Mr

A wonderful villa and a great holiday. Thank you

Nigel S.

Nigel S.

---

Nige & Jonny

We had such a lovely time a Villa Lefki and would highly recommend. Great location and everything we needed. We're already planning our next trip back to Villa Lefki next year.

Anna A.

Βουλγαρία

Anna A.

Βουλγαρία

---

Anna Angelova

Perfect villa! Awesome view! Thank you Anna and Tasos!

Phil i.

Phil i.

---

Villa spacieuse très agréable et très bien aménagée

J'ai passé un très bon séjour dans cette belle villa la grande baie vitrée du salon qui donne sur la mer est mieux qu'une TV grand écran. Un souvenir très particulier pour les soirées BBQ sur la terrasse de la piscine. Merci à Anna pour son assistante avant et pendant notre séjour.

Britta L.

Γερμανία

Britta L.

Γερμανία

---

Traumhaus zwischen Himmel und Meer, Oktober 2016

Wir hatten eine wunderschöne Zeit in diesem Traumhaus, keine Wünsche blieben offen und der Blick über das Ionische Meer und die vorgelagerten Inseln ist einfach unbeschreiblich, bei der Morgenrunde im Pool, beim Yoga oder unter der Freiluftdusche. Zwischen Himmel und Meer, so habe ich mich dort gefühlt. Die Fahrt zum Haus fanden wir, die keine Berge gewohnt sind, mit unserem großen Auto am Anfang schon recht abenteuerlich, aber wir haben uns daran gewöhnt, man wird ja auch mit diesem Wahnsinnsausblick belohnt. Das sehr geschmackvoll eingerichtete Haus hatte reichlich Platz für unsere fünfköpfige Familie mit zwei Teenagern zum gemeinsamen Kochen, beisammen sitzen und auch zum Alleinsein. Wir haben uns dort super wohl gefühlt und hatten viele tolle Erlebnisse und Momente im Gepäck, als es mit Abschiedsschmerz wieder heim ging. Vielen Dank für einen wundervollen Urlaub auf einer wundschönen Insel! Familie Lieder, Oktober 2016

philippe G.

Γαλλία

philippe G.

Γαλλία

---

We spend a great time in Lefki villa . The villa has a wonderful view and a very nice interior. W...

We spend a great time in Lefki villa . The villa has a wonderful view and a very nice interior. We found the villa and lefkada very suitable for enjoying active leisure as well as laying back There is a gorgeous private beach , a hidden bay around 400 meters away down hill from the villa. The good thing about the house is that the pictures on the internet really tell you what the house looks like. Service from Jerome and Anna is great.

marlyse/irene

marlyse/irene

---

The island is Wonderful, the villa is wonderful Very comfortable and fully equipped, great !!! ...

The island is Wonderful, the villa is wonderful Very comfortable and fully equipped, great !!! we enjoyed

Sandu M.

Ρουμανία

Sandu M.

Ρουμανία

---

A very nice vacation , excellent villa!

A very nice vacation , excellent villa!

Albert V.

Ολλανδία

Albert V.

Ολλανδία

Unni J.

Unni J.

---

We are a Norwegian Family of five who stayed in the villa for 2 weeks in July 2016. The villa was...

We are a Norwegian Family of five who stayed in the villa for 2 weeks in July 2016. The villa was absolutely perfect, and had everything we needed. It was very clean and spacious, with a beautiful view over the sea. The large, well equiped kitchen was fabulous. Every doors and windows had mosquito magnets - which was great, because the mosquitos were a problem outside.. The swimmingpool was also nice. Now we are back in Norway and we miss Lefkada already..! We would love to come back some day...

Katerina I.

Ηνωμένα Αραβικά Εμιράτα

Katerina I.

Ηνωμένα Αραβικά Εμιράτα

---

Wonderful island and wonderful villa! Very comfortable and fully equiped, great for a long stay.

Wonderful island and wonderful villa! Very comfortable and fully equiped, great for a long stay.

Rob v.

Ολλανδία

Rob v.

Ολλανδία

Jon C.

Ηνωμένο Βασίλειο

Jon C.

Ηνωμένο Βασίλειο

Mircea C.

Ρουμανία

Mircea C.

Ρουμανία

---

Sensational, exactly as advertised, stuningly beatiful place, wonderful villa.

Sensational, exactly as advertised, stuningly beatiful place, wonderful villa.

Laura F.

Ηνωμένο Βασίλειο

Laura F.

Ηνωμένο Βασίλειο

Gorjan T.

Πρώην Γιουγκοσλαβική Δημοκρατία της Μακεδονίας

Gorjan T.

Πρώην Γιουγκοσλαβική Δημοκρατία της Μακεδονίας

Karen G.

Ηνωμένο Βασίλειο

Karen G.

Ηνωμένο Βασίλειο

---

Great facilities and wonderful location.

Great facilities and wonderful location.

Wajsbrot A.

Γαλλία

Wajsbrot A.

Γαλλία

Juergen V.

Γερμανία

Juergen V.

Γερμανία

---

Villa lefki is a wonderful place for very relaxing holidays!

Villa lefki is a wonderful place for very relaxing holidays!

Sabine a.

Γερμανία

Sabine a.

Γερμανία

---

The villa has a wonderful view and a very nice interior. We had a relaxing and peaceful stay at t...

The villa has a wonderful view and a very nice interior. We had a relaxing and peaceful stay at the villa. The welcoming and the cleaning service was excellent.

Meir A.

Meir A.

---

Great villa We are a family with teenage kids And we found the villa and lefkada very suitabl...

Great villa We are a family with teenage kids And we found the villa and lefkada very suitable for enjoying active leisure as well as laying back The villa is an high end accommodation , outstanding . New, all is as described and as in the pictures. Very comfortable, Great views awesome pool. Serenity but not far away from civilization . There is a gorgeous private beach , a hidden bay around 400 meters away down hill from the villa. The location is perfect , for us it is the best in place to stay in lefkada 2 km from syvota bay , with all the boats crowded restaurants in the evenings, bakery, mini market etc' We would also recommend a day trip to the west coast of the island and renting a boat for a day from Nydri and spending an evening in lefkada city The rest of the time we just enjoy the villa .

Aidan M.

Ηνωμένο Βασίλειο

Aidan M.

Ηνωμένο Βασίλειο

---

A really super villa with a lovely pool and wonderful views. Limited hot water was a shame (solar...

A really super villa with a lovely pool and wonderful views. Limited hot water was a shame (solar powered only) and unfortunately mosquitos were a problem.

Mark V.

Ολλανδία

Mark V.

Ολλανδία

---

We had a great time in villa Lefki, The good thing about the house is that the pictures on the ...

We had a great time in villa Lefki, The good thing about the house is that the pictures on the internet really tell you what the house looks like. It is a great house , very nice furnished and with a stunning view. The village Sivota is nice for breakfast and dinner. I would book the house again. Service from Jerome and Anna is great.

Alan O.

Ηνωμένο Βασίλειο

Alan O.

Ηνωμένο Βασίλειο
Show more ↓